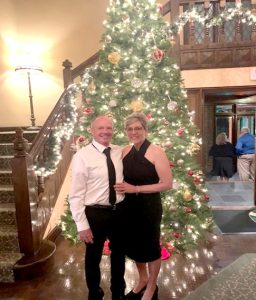 Angela Siecinski is one of our top leaders at Guttman Energy. She is the Vice President, Finance and Risk Reporting.
How long have you worked at Guttman?
It will be 10 years in July.
Degree/s (and where you obtained degree/s):
University of Pittsburgh: BS in Business and MBA from Katz Graduate School of Business
Family information:
Spouse, Joe of 32 years
Son, Adam and grandson Knox (9 months)
Daughter, Abigael
Blessed to have both children nearby in Pittsburgh
What do you like most about your role at Guttman?
"Working with a group of professionals who take as much pride in growing the future of our company as they do in their daily activities."
What Core Values speaks to you the most and why?
"Respect is the acceptance of others and their opinions/ideas even when they are not of our own. This is a quality I value in my personal life as well as a common theme that ripples within our other Guttman Core Values."
What is one of your proudest professional accomplishments
at Guttman?
"Leading the implementation of our new ETRM system."
What are some favorite business books you have read that you recommend to others?
"Who moved my cheese? By Spencer Johnson was a book given to me early in my career. It's a simple story with concepts that continue to help me accept and adapt to change in both personal and business situations."
"Additionally, Marie Benedict (Pittsburgh native) has written numerous historical fiction books telling the untold stories of women behind successful men, such as Albert Einstein, Carnegie Mellon and Winston Churchill. It is inspirational reading for all to remind us that when individual differences are embraced, good greater than our individual selves will emerge."
Favorite Quote or Words of Wisdom:
"Whether planning a vacation or focusing on your career; enjoy the journey and embrace the destination when you get there. You will find wonderful things in the journey that were never planned or expected."
What you or others would say are your greatest strengths:
Being supportive. As a manager, the greatest quality I have to offer is to support others by giving people the tools they need to be successful and to better themselves.
What are your hobbies?
Hiking with my husband; traveling with my daughter, gym time with my son (teaching me to do a pull up (hopefully) before my grandson can), baking for 'everyone'.