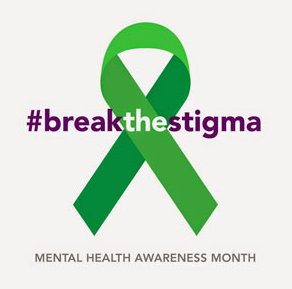 Over the last year, we have had multiple blogs regarding a very important issue, Mental Health Awareness.  The global pandemic has not made anything easier for anyone over the last 14 months and it has had a major effect on mental health in both adults and children.  Unfortunately, many people do not seek help for mental illnesses because of the stigma that comes with mental health disorders and the lack of understanding from family, friends, and peers.  #breakthestigma
Warning signs of mental illnesses to watch for, especially if you are experiencing two or more:
Long-lasting sadness or irritability
Extremely high and low moods
Excessive fear, worry, or anxiety
Social withdrawal
Dramatic changes in eating or sleeping habits
There are multiple self-report tests online for warning signs of mental illness.  If you are feeling any of the above symptoms, take one of the tests and seek help if needed.  https://screening.mhanational.org/screening-tools/
The most common mental illnesses are anxiety disorders, mood disorders, psychotic disorders, dementia, and eating disorders.  Anxiety disorders impacts approximately 40 million adults 18 and older.  An estimated 1 in 10 adults suffers from some type of mood disorder.  Alzheimer's disease accounts for 60 to 80% of dementia cases.
If you find yourself needing help, in case of emergency, call 911.  The following hotlines/text lines are available:
National Suicide Prevention Lifeline: 1-800-273-TALK (8255)
Crisis Text Line: Text "HELLO" to 741741
Veterans Crisis Line: 1-800-273-TALK (8255), press 1 or text to 838255
Disaster Distress Helpline: Call or text 1-800-985-5990
Contact social media outlets directly if you are concerned about a friend's updates or call 911
Your health care provider can provide mental health screenings and referrals for mental health specialists for treatment.  Treatment often includes therapy, medication, or a combination of both.  If you do not have a PCP, the following resources are available:
Substance Abuse and Mental Health Services Administration (SAMHSA)
Health Resources and Services Administration (HRSA)
Centers for Medicare & Medicaid Services (CMS)
The National Library of Medicine (NLM) MedlinePlus
If you are suffering from mental illness, do not believe the stigma.  Know your worth and seek help as soon as possible.
https://www.nimh.nih.gov/health/find-help/