Oil prices seem to be looking for a solid footing this morning as news continues to point towards an upcoming supply cut. Oil prices have lost almost a fifth of their value in the last 30 days due to oversupply concerns, signs of decreasing demand growth and the potential global economic impact of a growing trade war between the United States and China. Another wild card is the unknown political impact of the Saudi Arabian murder case of Washington Post journalist Jamal Khashoggi.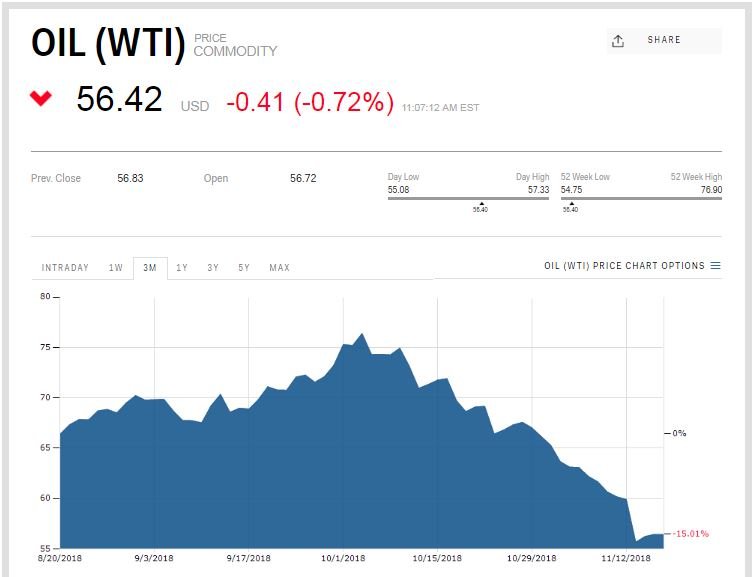 In this morning's news, some market watchers believe that OPEC, led by Saudi Arabia, could reduce worldwide supply by 1.4 million barrels per day. These cuts could start as early as next month to counteract recent plummeting prices. Additionally, Russian Energy minister Alexander Novak stated this morning that Russia planned to sign an agreement with OPEC to cut production. The details of such an agreement are to be discussed at the upcoming OPEC policy meeting in Vienna on December 6th. This potential production cut seemingly has had little impact of the market. "It appears that the market takes a production cut for granted. We'll see if it's right after the next OPEC meeting on December 6th. It is not unreasonable to anticipate stable prices until then" said PVM Oil Associates strategist Tamas Varga.
In the near term the American Petroleum Institute will release their weekly stats tomorrow afternoon followed by the Department of Energy stats Wednesday morning. As of this writing all three NYMEX indices are down in what has been a typical upcoming holiday, light volume, volatile up and down session.
https://www.cnbc.com/2018/11/19/severe-oil-price-drops-often-set-up-bounce-in-stocks-crude-futures.html
https://oilprice.com/Geopolitics/International/The-Saudis-Are-Hinting-At-Another-U-Turn-In-Oil-Markets.html
https://www.cnbc.com/2018/11/19/oil-markets-opec-us-china-trade-war-in-focus.html
OPIS Morning News and Spots