Last week's rally has continued through the weekend into early trading Monday morning. WTI crude has continued its wayward path north, up $1.19 to $37.11, which is over $10 stronger than it was less than three weeks ago. Additionally, both heat and RBOB continue to strengthen, up $.0344 and $.0305 respectively.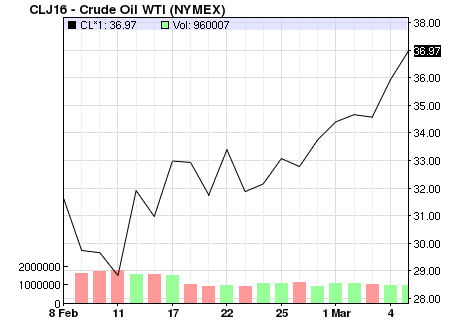 Is this rally a fluke? According to Gary Ross, chief oil soothsayer at PIRA Consulting, it is not. Ross believes this is exactly what OPEC wants, and we can expect to see the market stabilize itself by "anchoring" crude prices back to $50/bbl by the end of the year. He believes OPEC accomplished what they set out to do: lowering the prices of crude without decreasing their own market share worldwide. A combination of many things, including a significant slowdown of U.S. shale production, China imposing a cap on energy consumption by 2020, and talks of a Russian production freeze, are all variables that would (should) lift the prices of crude.
With all the crude volatility monopolizing the headlines, it seems distillates have been left without a voice. Something to note about distillates here in the U.S. is that we are seeing an all-time high for inventory levels. El Nino, which accounted for one of the mildest winters in the northern hemisphere on record, coupled with the worldwide slump in mining, has curbed global diesel demand. Consequently, U.S. exports of distillates have slowed down…significantly.
What's more, the distillate stockpiles here in the U.S. are only going to increase before getting better due to large lead times in changing refining operations. During the last decade of strong freight shipments and industrialization, refiners planned on increased distillate demand, and made operational changes. The results of changes made now, to slow distillate production and increase gasoline output, would not be seen for years to come.