As the country struggles with shortages of goods, jet fuel is no exception.  Throughout the coronavirus pandemic the demand for jet fuel fell sharply across the country.  According to the U.S. Energy Information Administration, jet fuel supplied in the U.S. in 2020 fell 38% compared to 2019 pre-pandemic levels. Jet fuel demand has increased about 26% since the start of this year, though it has not reached 2019 levels. The administration's Weekly Petroleum Status Report from this July shows demand was at 78% in 2019. Up 44%  around the same time in 2020 when the pandemic had taken hold.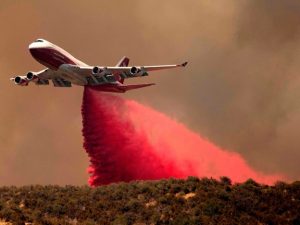 Fear of shortages loom heavily in the West where they are expecting a ferocious wildfire season.  Airtankers were first introduced to fighting fires in the 1950s by CAL FIRE Air Program.  Since their inception, there have been many additions to the program including helicopters and advanced tactical jets.  Most of the nation's large retardant bombers are jets. Turboprop retardant bombers also use jet fuel. They lay down strips of red fire retardant ahead of approaching flames in support of ground crews who are more likely to hold a fire line after a retardant bomber has made a drop.
Shortages have already been reported at some tanker bases in Oregon, Utah, and Arizona.  Unlike the large airports in the West that are supplied with fuel from the pipeline, many smaller airports and tanker bases rely on jet fuel delivery by truck.  According to Avfuel Corp's Vice President of Sales, Mark Haynes, "COVID-19, it lulled everybody to sleep.  Our business went to about zero.  A lot of trucking companies had to lay off jet fuel drivers."  With jump in commercial air travel throughout the U.S., the need for fuel and jet fuel drivers is at an all-time high.  These contributing factors have lead to an extremely unstable supply chain.
https://www.businessinsider.com/passenger-airliners-being-repurposed-to-fight-fires-photos-2020-8
https://gacc.nifc.gov/swcc/dc/azpdc/operations/documents/aircraft/links/Aircraft%20Recognition%20Guide.pdf
https://www.ttnews.com/articles/fragile-jet-fuel-supply-chain-could-ground-firefighting-aircraft