Seven weeks of large crude draws, still, has not been enough to push the energy markets up. We saw almost a 9 million barrel drop in crude inventories reported yesterday from the DOE, but U.S production is pushing right back generating the highest amount of output in more than two years. The market was down yesterday and is continuing to lose ground early this morning. Yesterday, front month Heating Oil closed down $0.0252 to $1.5744/gallon, front month RBOB closed down $0.0157 to $1.5638/gallon, and WTI Crude closed down $0.77 to $46.78/bbl.
A few important facts to take note of:
U.S. crude inventories have fallen below 2016 levels (see chart below).
U.S production is up by 13 percent since mid-2016.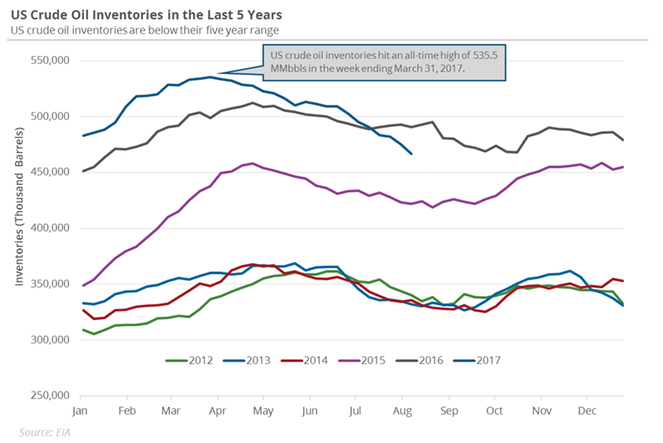 Another interesting piece of data that made some headlines was China's gasoline demand is expected to decline in the coming years. In previous monthly data, China has had over 2 million new car sales a month. But, according to BMI Research, "Gasoline consumption growth in China is set to see a marked slowdown over the coming years, due to the macroeconomic headwinds, improving fuel economy, and competition from alternative fuels."
The markets have rallied all the way back from the morning lows and is trading in the green for RBOB and WTI Crude. Distillates are still fighting to get out of the red. The pop in the markets was mainly due to a Genscape (an energy industry information provider) report showing a hefty stockpile draw at the oil storage hub of Cushing, OK. As of 12:10 p.m. ET, September Heating Oil is down $0.0024 to $1.5720/gal, September RBOB is up $0.0028 to $1.5666/gal, and WTI Crude is up $0.12 to $46.90/bbl.