The destruction caused by Hurricane Ida when it made landfall August 29 has led to the largest ever initial loss of crude oil production in the Gulf of Mexico.  Hurricane Ida has been responsible for the loss of 16.8 million barrels per day (bpd) of output in the near two weeks since the first production platforms were evacuated.  That figure is 32% more crude than was lost to Hurricane Katrina in 2005 and 42% more than to Hurricane Gustav and Hurricane Ike in 2008.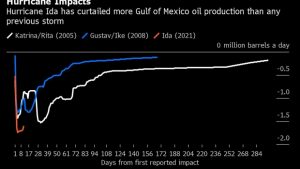 According to the Bureau of Safety and Environmental Enforcement, as of September 5, as much as 1.6 million bpd or 88.32% of U.S. Gulf Coast oil production continues to be suspended as well as 83% of natural gas production.  In addition to offshore production, Hurricane Ida severely disrupted refineries in Louisiana.  Roughly thirteen percent of American refining capacity was shut down immediately after Ida made landfall.  Over a week later, five out of nine affected refineries remain shut down, according to the Department of Energy.  Three refineries in Baton Rouge and one in New Orleans have initiated the restart process but are not expected to produce fuel at full rates for several days.  These refineries have a combined 1.3 million bpd in capacity.
As a result of the struggling restart operations, oil prices jumped Wednesday.  Brent Crude settled up 91 cents or 1.3% at $72.60 and U.S. West Texas Intermediate crude settled up 95 cents or 1.4% to $69.30 a barrel.
https://oilprice.com/Latest-Energy-News/World-News/Hurricane-Ida-Has-Led-To-Largest-Ever-Initial-Oil-Output-Loss-In-Gulf.html
https://www.bnnbloomberg.ca/ida-s-initial-hit-to-u-s-oil-output-has-surpassed-katrina-s-1.1648562
https://oilprice.com/Energy/Crude-Oil/Hurricane-Ida-Continues-To-Weigh-On-Gulf-Oil-Production.html
https://www.energy.gov/sites/default/files/2021-09/TLP-WHITE_DOE%20Situation%20Update_Hurricane%20Ida_8.pdf
https://www.reuters.com/world/us/us-probing-nearly-350-reports-oil-spills-wake-hurricane-ida-2021-09-06/
https://www.reuters.com/business/energy/oil-climbs-amid-slow-supply-return-after-hurricane-ida-2021-09-08/