Hurricane Idea made landfall yesterday in Port Fourchon, Louisiana as a Category 4 storm, with sustained winds of 150 mph.  At the time of reporting more than one million homes and businesses in Louisiana have lost electricity.
The city of New Orleans, which was devastated by Hurricane Katrina sixteen years ago to the day, is once again facing severe damage as the storm moves inland.  Governor of Louisiana, John Bel Edwards said, "This is one of the strongest storms to make landfall here in modern times."  He went on to state that Louisiana "has never been more prepared" when discussing the state's $14 billion levy system.  The levy system designed after Hurricane Katrina, are barriers that prevent the overflow of water onto land.  It also includes pumps, seawalls, floodgates, and drainage that provides enhanced protection from storm surge and flooding from a hurricane or tropical storm.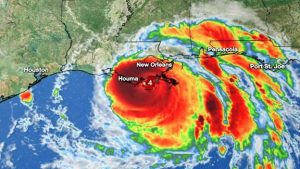 President Biden approved Louisiana's disaster declaration Sunday evening which frees federal aid for people and government affected by the storm.  While Ida has now weakened to a tropical storm, the focus will  be on restoring power and cleanup efforts.
https://www.reuters.com/world/us/louisiana-braces-powerful-hurricane-covid-19-taxes-hospitals-2021-08-29/
https://www.nbcnews.com/news/us-news/ida-intensifies-dangerous-category-4-hurricane-n1277868
https://weather.com/storms/hurricane/news/2021-08-29-hurricane-ida-forecast-landfall-louisiana-gulf-coast
https://abcnews.go.com/Technology/wireStory/explainer-orleans-protected-hurricane-79693042
https://www.clickorlando.com/news/local/2021/08/29/live-look-conditions-to-deteriorate-as-hurricane-ida-approaches-louisiana/
https://www.nbcnews.com/news/weather/hurricane-ida-knocks-out-power-new-orleans-may-bring-life-n1277981