The AAA holiday travel forecast for 2021 is in and it looks much different from last year. Many family get-togethers and getaways were cancelled in 2020 due to the pandemic and this year travel is expected to increase by 34%. According to Newsroom, more than 109 million people will travel 50 miles or more as they hit the road, board airplanes, or take other transportation out of town between December 23rd and January 2nd.
Senior Vice President of AAA Travel, Paula Twidale says, "Americans who canceled their vacations in 2020 want to gather with family and friends for the holidays this year, although they will still be mindful of the pandemic and the new omicron variant. With vaccines widely available, conditions are much different, and many people feel a greater level of comfort with travel."
A few things to consider while traveling this year:
Protect yourself and your trip: Following the CDC guidelines is essential for the latest COVID-19 protocols and to be up to date on requirements and recommendations based on vaccination status.
Travel Insurance is a must: Unexpected delays or trip interruptions can happen at any time. Different coverage options are available, and it is best to speak with a trip advisor when planning.
Accommodations that are clean: Many hotels and destinations have implemented additional cleaning techniques and standards since the beginning of the pandemic.
The AAA forecast reveals that 100 million people are planning to travel by car, more than 6 million people will travel by air and 3 million people are booking buses, trains, and cruises.  Make sure to stay up to date with domestic and international travel guidelines.
Head over to newsroom.com see more tips and tricks for traveling this holiday season.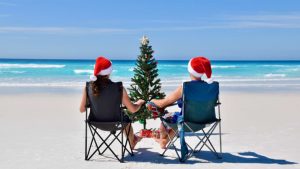 https://www.cnbc.com/2021/11/14/holiday-travel-may-rebound-but-overspending-uncertainty-can-spoil-fun.html
https://newsroom.aaa.com/2021/12/tis-the-season-more-than-109-million-americans-to-travel-for-the-holidays/