Crude and retail prices, despite the usual market fluctuations, have been on a steady decline over the last two months. Brent crude peaked in early March at over $125/barrel and exceeding $120/barrel again in June.  WTI crude was much the same, surpassing $120/barrel in both March and June. Brent and WTI, year-to-date, have hit 28 and 30 new highs, respectively. However, since those June highs, both U.S. indexes have dropped to new year to date lows. Brent hitting a low of $84.81/barrel and WTI crude of $85.73.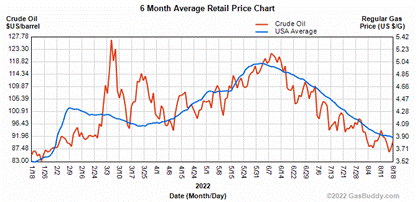 The retail gasoline and diesel markets have somewhat mirrored the crude, spiking in March and June. However, regular unleaded gasoline and on-highway diesel pricing has seen a much higher spike in June with gas averages surpassing $5.00/gallon and diesel $5.80/gallon. Since the mid-June record highs, gas and diesel have been on a steady decline, dropping averages below $4.00 and $5.00 a gallon. National averages have been slow to stabilize, and volatility remains baked into the market, while prices, although lower than two months ago, remain significantly higher than they were a year ago.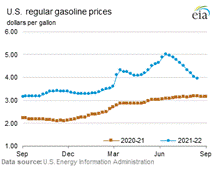 It's easy for most of us to see the direct impact high gasoline and oil prices have on us. However, high diesel prices have a large impact on consumers, albeit indirectly. Diesel fuels nearly all trucking/freight, construction, and agriculture industries. As these industries pay more to keep operating, those increases are passed along to consumers straining the economy, increasing inflation, and impacting budgets and the bottom line of the consumers, businesses, and the economy as a whole.
Refiners plan to keep production at max capacity or as close to max capacity as they can throughout the third quarter. Executives and estimates have held to delivering more fuel setting aside worries regarding a recession and sliding retail prices. Analyst Matthew Blair wouldn't be surprised if the third quarter actual production numbers are higher in the second quarter. However, "We currently barely above the five-year average and still well below the five-year high," Blair said. Historically, U.S. production peaks in the second or third quarter as the summer driving season winds down and companies begin autumn equipment overhauls. In a call to investors, Valero exec. vice president, Gary Simmons said, "there is really no indication of any demand destruction."
"Global recession and demand destruction are front and center of current concerns given weak data out of the U.S., euro zone and China. Signs of slowing economic growth are pervasive and could dent oil demand," PVM analysts said. Haitham Al Ghais, the new secretary general of the Organization of the Petroleum Exporting Countries, has said OPEC is keen to ensure Russia remains part of the OPEC+ group. However, "Supplies could tighten again when European buyers start seeking alternative supplies to replace Russian oil ahead of European Union sanctions which take effect from Dec. 5" as per Reuters. It's estimated that 1.2 million barrels per day would need to be replaced.
With crude and retail oil prices dropping, the relief at the pump for consumers and businesses is a relief, however the market remains volatile, and prices remain much higher than desired. Predicting what will happen in the global market is a difficult task in more stable times. With spare capacity strained, refining production peaking and global politics and sanctions looming, we can expect fuel prices to remain relatively high and precarious for some time. In times like these, consumers and businesses need to take the time to evaluate how they are purchasing their fuel in order to maximize any relief they can find at the pump.
https://charts.gasbuddy.com/ch.gaschart?Country=USA&Crude=t&Period=18&Areas=USA%20Average%2C%2C&Unit=US%20%24%2FGhttps://www.reuters.com/business/energy/oil-edges-higher-optimism-firmer-crude-demand-2022-08-19/
https://www.eia.gov/ https://smallbiztrends.com/2022/08/diesel-price-down-august-16-2022.html