The day before the Center for Disease Control (CDC) put out their first guideline of mass gatherings and large community events of 250 people or more to be cancelled, approximately 150 professionals gathered together at Becoming Your Best: The 12 Principles of Highly Successful Leaders seminar with Rob Shallenberger. At this time, many people didn't realize the severity of what was to come around the world. You overheard people joking about the situation, wondering if we should have been at the gathering at that time, still shaking hands with people we just met, not knowing if they had been in contact with COVID-19. Three co-workers and myself attended this seminar; the four of us didn't know what we would take from that meeting when we set out that morning. Afterwards, we all agreed, it was very beneficial to us and we would use what we learned that day, not only in our professional lives, but our personal lives as well.
According to Rob Shallenberger, 68% of people feel their #1 challenge is how to prioritize their time. I know I fall into this category. Although I make daily to-do lists, the prioritizing of that list was the challenge. Another stat that Rob shared with the group, is that 80% of people don't have a process in place to prioritize their time. Once again, my hand went up with most of the group when he asked if we had a process for this. While I was getting most tasks done on my list, I wasn't prioritizing and checking everything off daily.
This is when "Pre-Week Planning" was introduced to us. This process will "help you schedule your priorities rather that prioritize your schedule." Earlier in the seminar, we were asked to create a personal vision and identify roles in our lives. My roles included; parent, spouse, senior sales representative, along with personal.  Rob stated that pre-week planning is about a 20-45 minute time commitment that should be done before Monday each week. Every person there committed to doing pre-week planning for the rest of 2020. Our group immediately set up a reoccurring meeting for every Friday so we could work through it together, as a team.
Fast forward almost two weeks and things have changed dramatically. On Friday, March 13th, all parents in the state of Pennsylvania learned that at a minimum, our children would not be returning to school for two weeks. As a company, we are working 100% remotely from home and as a nation, we are practicing social distancing, all efforts to flatten the curve and stop the spread of COVID-19.  With that being said, my roles have also changed quite a bit.  Besides trying to balance my work while at home,  I also need to make sure my kids, 2nd grader and kindergartner, are still getting educated while being out of school. Our school sent home assignments and are doing a great job staying in contact with all the parents. In addition to my other roles, you can add "referee" (more than usual), "snack getter" (if I hear the word "snack" one more time…my kids must ask for 100 snacks a day), "cafeteria worker" for weekday breakfast/lunches that are normally eaten at school. Here I thought it was going to be better than "lunch packer" because every mom knows that is one of the worst mom duties! We don't know why, but it is, just ask any of us.
With a minimum of one week to go, being a 100% work-from-home-mom/teacher, I did pre-week planning on Friday with a group of my colleagues through Microsoft Teams meeting.
The schedule here, other than scheduled meetings for work, I set up my day to start at 7:00 a.m. and I work until 4:00-4:30 p.m. daily.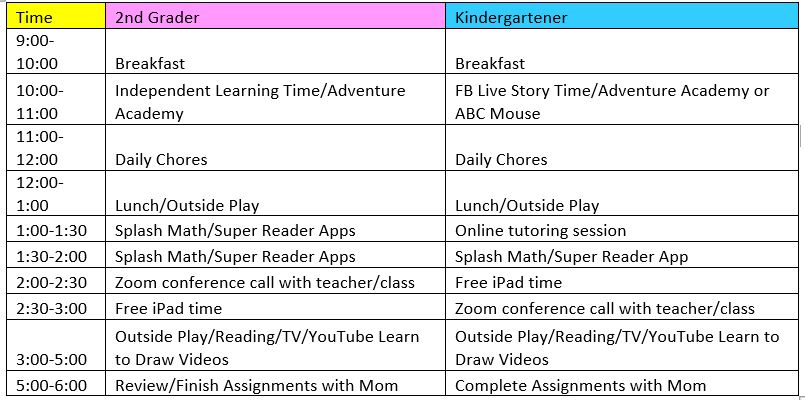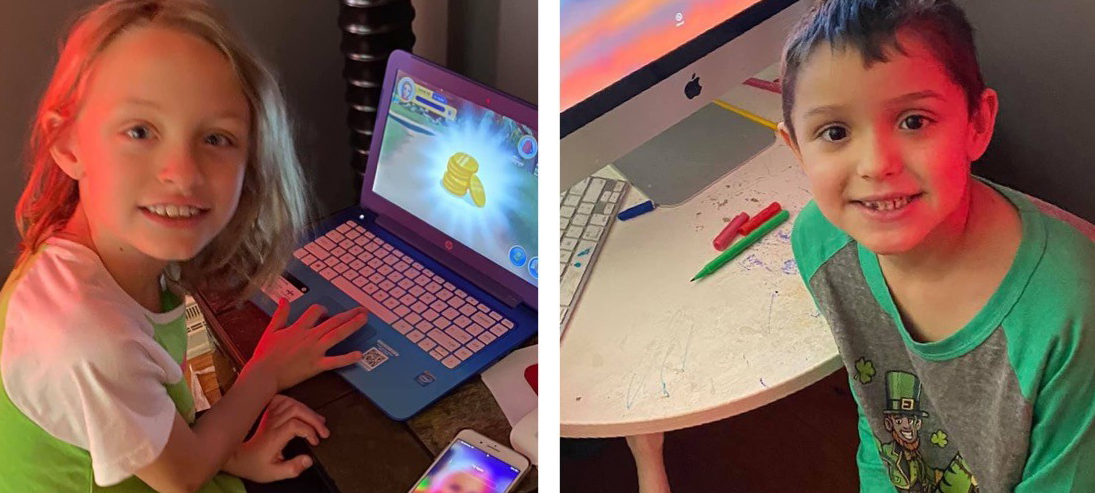 6:00 p.m. – dinner – hey I've cooked every night…a full meal!
After dinner: ANYTHING WE WANT!  Family time – more outdoor time/game nights/movie nights – if it were up to my son, binge watch Scooby-Doo. If you do not have a streaming service, you're going to want to get one – Netflix, Hulu, Disney+ (any or all) – at least get the free trials, they help with movie nights! Turn on some music and DANCE! Get some exercise in too during this time if you can!
After bedtime every night, even before working from home, I take about an hour to prepare my quotes to send to customers first thing in the morning. This makes my mornings run smoother and I don't have to rush to prepare the next day.
Time to look at the silver lining in all this chaos. 
Not caught up on house chores/laundry/etc.?
My husband and I have committed to one room a night this week to do some spring cleaning while we are home. We are going through things to donate/sell that we haven't had the time to do because of our hectic schedules.
How many parents are constantly running around in life?
Kids have tons of activities to go to nightly after school/work and it is hectic most of the time. Eating out on the run a couple nights a week. I know it all sounds too familiar to our family. While we are running here and there, we aren't spending quality time with our kids/spouse. NOW is our chance to do that, take advantage of that time we don't get back.
While we are practicing social distancing, I know it is so hard not to see family and friends that we are so used to seeing daily/weekly/etc, but we must realize this is all for the better. If possible, schedule FaceTime calls, Zoom calls with family and friends, anything to get through this, (thank goodness for all the technology we have, imagine all this 30 years ago!). The hardest thing is not being able to see older relatives at a time like this, but I have seen many people enjoying time through the windows at grandparents' houses and  nursing homes.
It's hard to explain this to young kids, but I think they understand better than we think they do, except for my kindergartner who said we can't go places because of "quesadilla;" pretty sure he means coronavirus.
Imagine what our kids will be saying 30 years from now, "hey mom, remember that time when we didn't have school for a month?"  Yeah, I remember, I'll never forget.
Sources: Becoming Your Best: The 12 Principles of Highly Successful Leaders seminar by Rob Shallenberger – www.becomingyourbest.com