As many Americans turned to cyber deals instead of in-store Black Friday specials, California-based Flock Freight is looking to revolutionize how those packages make their way into homes. The trucking industry has revenues of over $700 billion annually and is expected to grow by 75% into 2026. The trend to revolutionize trucking was being pushed by digitally matching truckers with shippers. Taking another approach, Flock looks to use its algorithms and software to pool shipments into a single truckload to increase efficiency. While Flock is not making the last mile deliveries, they are a vital part of the supply chain of companies looking for materials and products.
Flock uses an algorithm to best align less-than-truckload (LTL) and partial-truckload shipments (PTL) into a full truckload. They accept shipments between four and 24 pallets and combine multiple shipments into one full truckload – the truck is not unloaded until it reaches its destination. These shipments are bypassing traditional warehousing operations. With this model, their website explains that less movement of freight into and out of trucks provides lower cost, less damage and reduced late deliveries.
Flock Freight has recently raised an additional $113.5 million in capital to accelerate the development of its algorithms. They had previously raised $70 million. The influx of funding was led by SoftBank Vision Fund with other investors such as Google Ventures and Volvo Group Venture Capital. The company is now estimated to be valued at $500 million but has not yet become profitable with large amounts of uncertainty in its formula predictions. If the algorithm predicts incorrectly, Flock is forced to pay for a full truckload shipment with minimal cargo inside.
"Flock's technology works by finding at least two loads of freight that are coming from and going to roughly the same place at the same time, then matching them together on the same truck. It's a feature that's particularly helpful for shipments to smaller cities."[1] Getting products to consumers in the current pandemic is now more vital than ever.
Flock surveyed over 2,000 adult consumers to understand their spending habits. With changes in buying-behavior, consumers are moving away from buying for wants and instead buying online to meet their basic needs.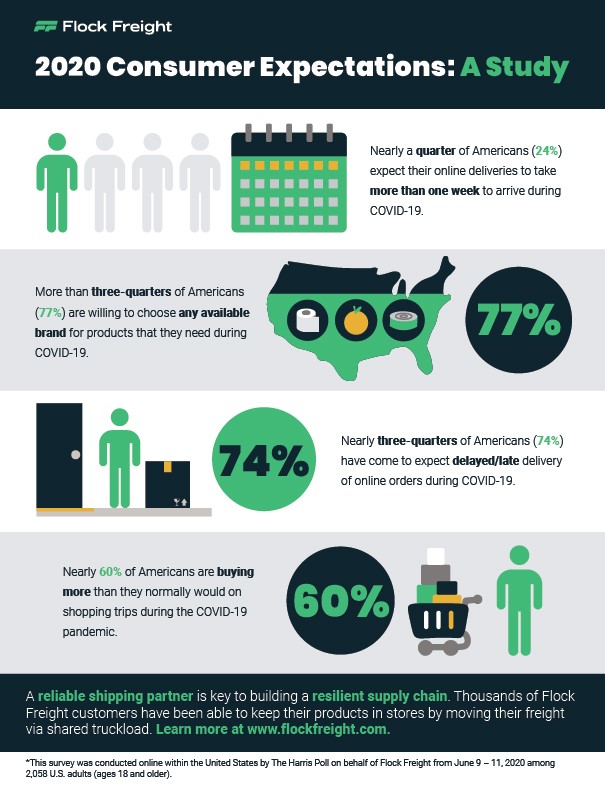 More than half of consumers will buy an unfamiliar brand if the item is physically available taking brand loyalty out of the equation. "The biggest takeaway for shippers? Because consumers aren't buying based on brand loyalty right now, companies that have strong supply chains are outperforming those that don't."[2] Today's economy is about having the right products in front of customers and less about having brand recognition. If the pandemic has taught us anything, it is that we need to change how the supply chain works. In so many cases, products source internationally were unable to reach their final destinations. These low-cost raw materials worked well until we were unable to get them. Supply chains need to be agile and resilient allowing companies to make quick changes. Most people have changed their buying behaviors and are now dependent on delivery. The trucking industry is going to need to keep up.
[1] https://www.bloomberg.com/news/articles/2020-12-01/softbank-bets-on-logistics-startup-at-500-million-valuation
[2] https://www.flockfreight.com/2020/10/26/key-findings-from-flock-freights-consumer-expectations-study-with-infographic/