Since 2012, solar panels installed by SolarCity, have caused seven fires on the roof tops of Walmart stores. In 2016, Tesla purchased SolarCity to expand its renewable energy business. The purchase of SolarCity has been controversial since the beginning as it was founded by cousins of Elon Musk, and Musk himself served as chairman of the board. SolarCity was plagued by debt issues at the time of purchase, and its revenues have not turned around since the Tesla purchase.
In May of 2018, two stores suffered substantial damage from the panels in fires that were only two days apart. On August 20, 2019, Walmart filed its complaint with the New York State Supreme Court. "Walmart's lawsuit is more than 100 pages long, with pages of detailed explanations of Tesla's alleged installation problems. Under its contract with Walmart, Tesla is supposed to do regular maintenance on the solar panels. But Walmart says Tesla failed to properly hire, train, and supervise the contractors doing installation and maintenance work for Tesla."[1] Walmart has commented that Tesla failed to ground the solar panels upon installation and installed the panels with visible defects like sharp edges cutting into wires.
Walmart is also stating that Tesla has not complied with its contract to regularly inspect the panels with qualified individuals. The lawsuit is asking for damages associated with the fires as well as the removal of the panels.
"Walmart says that Tesla's own inspections revealed 'a total of 157 action items requiring repairs or replacement of system components, 48 of which Tesla itself characterized as reflecting conditions that rendered the sites unsafe or potentially unsafe.' Walmart's own follow-up inspections turned up even more problems, the retailer charges."[2]
As Tesla tries to revive its solar division, Musk has Tweeted that consumers in six states can rent rooftop solar panels without a contract for $50-$65 per month. "Although Musk touted the ease of cancelling a rented roof at anytime, the fine print on Tesla's website mentions a $1,500 fee to take out the solar panels and restore the customer's roof."[3] As the Walmart complaint is made public, consumers are only left to weigh the risks of installation on their homes.
Tesla began a secret "Project Titan" in 2018 to inspect and replace solar panels. Hedge fund investors, like David Einhorn, and consumers alike are turning to Twitter and are calling for Musk's resignation.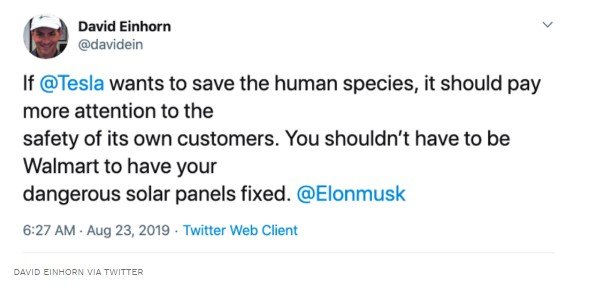 https://www.forbes.com/sites/tmobile/2019/08/01/reimagining-restaurants-how-next-gen-networks-will-fuel-next-level-customer-experiences/#55488181241e
On Friday, August 23, Tesla commented that it will work with Walmart for a resolution. Its stock prices have been declining since the beginning of August. The complaint is in conjunction with US-China trade tensions and has put Telsa stock into the biggest decline among all US car makers.
[1] https://arstechnica.com/tech-policy/2019/08/after-seven-roof-fires-walmart-sues-tesla-over-solar-panel-flaws/
[2] https://arstechnica.com/tech-policy/2019/08/after-seven-roof-fires-walmart-sues-tesla-over-solar-panel-flaws/
[3] https://www.cnbc.com/2019/08/20/walmart-sues-tesla-over-solar-panel-fires-at-seven-stores.html