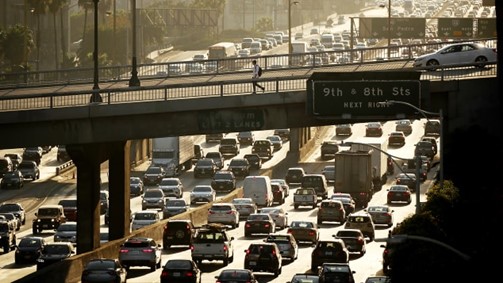 Drivers are predicted to travel about 98% of the miles they drove during the 2019 holiday break according to AAA.  AAA is predicting 54.6 million people plan to travel 50 miles or more to reach their Thanksgiving holiday travel destinations. The total number of vehicles on the road is an increase of 1.5% over 2021.
Paula Twindle, Senior VP of Travel at AAA says, "Families and friends are eager to spend time together this Thanksgiving, one of the busiest for travel in the past two decades." Similar to last year, more people are planning to drive instead of flying to get to their destinations. AAA is projecting that nearly 49 million people will be on the road this year. While the total number traveling by road has increased by 0.4% since 2021, it still remains 2.5% less than what we saw in 2019.
While many are planning to drive next week, there are also many people planning to fly to get to their Thanksgiving destinations. Air travel is up 8% compared to 2021 with 4.5 million people planning to fly in order to reach their final destination.
AAA is not only seeing an increase in air and vehicle travel this year. Many plan to bus, train or take cruises as well with 1.4 million taking other modes of transportation, which is an increase from 2021 of 23%. Twindale says, "With travel restrictions lifted and more people comfortable taking public transportation again, it's no surprise buses, trains and cruises are coming back in a big way. Regardless of the mode of transportation you have chosen, expect crowds during your trip and at your destination. If your schedule is flexible, consider off-peak travel times during the holiday rush."
On Monday, the national average per gallon of gas was $3.77. Gas prices have dropped from where they were over a month ago and well below what we saw in June where we peaked at $5.00 per gallon. On Thanksgiving the national average is projected to be $3.68 per gallon, which is about $0.20 cents higher than last year's Thanksgiving.
Best & Worst Times to Travel (by car)
| | | |
| --- | --- | --- |
| Date | Worst travel time | Best travel time |
| 11/23/22 | 11:00 AM – 8:00 PM | Before 8:00 AM, After 8:00 PM |
| 11/24/22 | 11:00 AM – 3:00 PM | Before 11:00 AM, After 6:00 PM |
| 11/25/22 | 4:00 PM – 8:00 PM | Before 11:00 AM, After 8:00 PM |
| 11/26/22 | 4:00 PM – 8:00 PM | Before 2:00 PM, After 8:00 PM |
| 11/27/22 | 4:00 PM – 8:00 PM | Before 11:00 AM, After 8:00 PM |
https://www.cnn.com/travel/article/thanksgiving-travel-forecast-aaa-holiday-airfare/index.html
https://newsroom.aaa.com/2022/11/thanksgiving-travel-ticks-up-just-shy-of-pre-pandemic-levels/