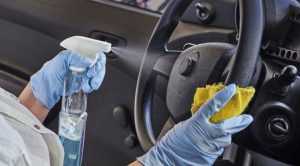 Disinfecting you and your truck
With COVID-19 not going away anytime soon from what it seems,  and now entering flu season it is worth taking the time to make sure your vehicles are clean and sanitized to help  stay safe and healthy.
Troy Guidry, a senior risk control consultant for Gallagher, risk management and consultants said, "it is more important now than ever to remind drivers of the importance of adopting best practices for keeping trucks clean and sanitary, even if you are the only one driving the truck."
Making sure on a regular basis to wipe down surfaces within the vehicle before and after driver shifts is important to try and minimize the spread of germs and viruses. Pay close attention to the areas that are frequently touched, steering wheels, turn signals, door handles, gear shifts, seats and seat belts. Clean those areas using hot water and soap, then apply a disinfection spray or use disinfectant wipes. Frequently touched electronics should have visible dirt removed then use an alcohol-based wipe or spray that contains at least 70% alcohol. All surfaces furthest from the door should be cleaned first, making your way back to the door. Personal Protective Equipment (PPE) should always be worn with adequate ventilation to avoid inhaling cleaning products.
It is worth the extra time to make a clean truck a safe truck.
https://www.fleetowner.com/covid-19-coverage/article/21177225/the-importance-of-cleaning-and-disinfecting-your-trucks