Today marks the longest stretch of daily declines in oil prices since 2019 as concern continues to grow about global energy demand.  West Texas Intermediate (WTI) dropped for the seventh day this week leading to a weekly loss of 7.3%. Oil prices took a hit this month caused by speculation that the Federal Reserve will start cutting back on its bond purchases despite the growing spread of the delta variant. With the pandemic still a threat to the energy market, it could cause more decline in inventory draws in the months to come. As prices decline, OPEC+ could plan to stop any production increases in the future.
Bjarne Schieldrop, chief commodities analyst of SEB AB said, "We have now priced down to a level reflecting more sideways inventories, with demand pain from Covid-19 together with more from OPEC+ on supply. But OPEC+ should be in fairly good control of the market still."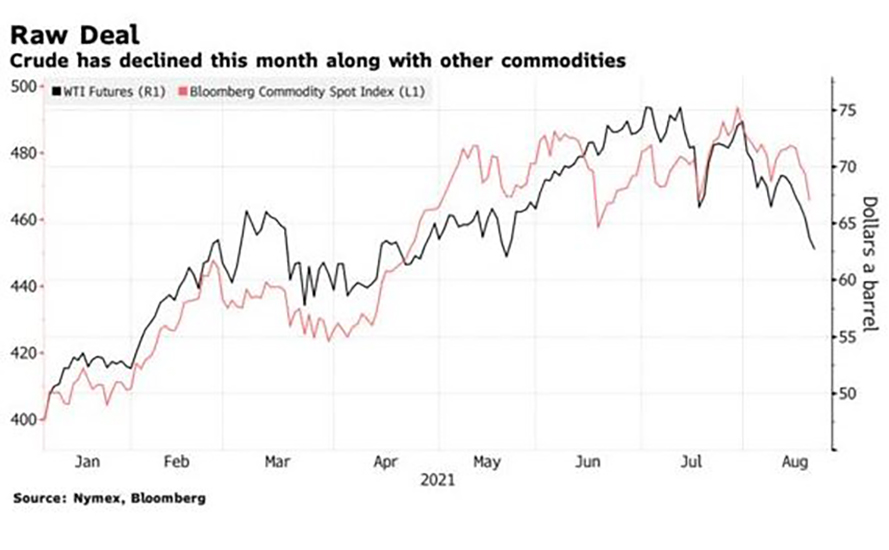 An ANZ commodity analyst said, "This will lead to a fall in crude oil demand in the region in the second half of the year. This is taking the shine off an otherwise positive backdrop elsewhere."
Across the globe, China has imposed a "zero tolerance" coronavirus policy which affects shipping and the global supply chains. Australia and New Zealand are on strict lockdowns for the next several weeks.
Stephen Innes, managing partner of SPI Asset Management said, "Aviation remains the weakest component of global demand at the moment, and the risk of further restrictions on domestic and international travel due to the Delta variant will be a key variable for oil over the remainder of H2, particularly as the US driving season ends."
As many companies continue to announce plans to keep employees working from home as the virus spreads, time will tell when demand for fuel will increase.
Take aways:
September WTI delivery, expires Friday fell to $63.45 a barrel
October Brent settlement declined to $66.31 a barrel
Prices in longest decline since October of 2019
Sources:
https://www.bloomberg.com/news/articles/2021-08-19/oil-heads-for-weekly-loss-as-taper-signal-punishes-commodities
https://www.reuters.com/article/global-oil-idAFL1N2PR022