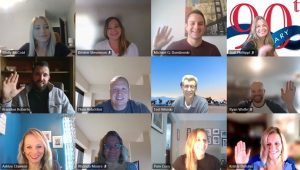 During the week of October 4 through October 8, we celebrate National Customer Service Week.  The first official program began in 1991.  For 30 years, businesses have been celebrating and recognizing staff of companies that keep customers informed and satisfied.  Often, it is the customer service representatives of a company that keep customers returning and the company running.
If an issue should arise, most likely you will need to discuss and get it resolved by a customer service representative.  How well the representative handles the issue and resolves it sometimes determines whether you are likely to do business with that specific company again.
89% of consumers have stopped doing business with a company after experiencing poor customer service.
7 out of 10 U.S. consumers say they've spent more money to do business with a company that delivers excellent customer service.
40% of Americans believe that businesses have better focused their attention on customer service recently.
96% of consumers say customer service is an important factor in their choice of loyalty to a brand.
While Guttman isn't a brand of fuel, we certainly have loyal customers.  In many industries, like the fuel industry, a customer will have a sales representative that acts as sales and customer service.  Building rapport and a relationship with a customer is very important.  It usually makes the customer interaction feel more personal and less transactional when purchasing from someone they have built a relationship with. In our industry, relationships are also very important when it comes to the volatility of the market due to occurrences such as hurricane demand, pipeline shutdowns, winter season, etc. and customers with strong relationships tend to be a priority for supply.  Gaining the trust of our customers and taking pride in what we do for them is a top priority within our team.
If you are a current Guttman customer, reach out to your sales representative and let him/her know how he/she is doing.  If you are looking for a new or additional fuel supplier, give Guttman a call, we will take care of you.
https://www.nextiva.com/blog/customer-service-statistics.html
https://nationaldaycalendar.com/customer-service-week-first-full-work-week-in-october/
https://www.nationalcustomerserviceweek.org/