WTI Crude oil prices topped $93.50/barrel on Monday and now trading at $86.21/barrel at writing. Why the significant drop? Let's look at the fundamentals and the technical for an explanation.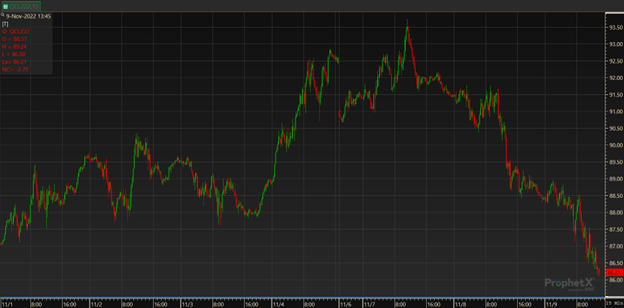 From the fundamental perspective, China re-affirmed its stance this week on its zero-COVID policy strategy that when a few cases are confirmed, a lockdown of that area will soon follow. COVID-19 cases have spiked in Guangzhou and other large Chinese cities with millions of habitants and that has spurred crude oil demand concern over the coming weeks. Domestically here in the United States, crude oil stocks (excluding the scheduled Strategic Petroleum Reserve release) built by 3.9 million barrels. Domestic production also rose by 200,000 barrels per day last week to 12.1 million barrels per day. Seasonably speaking, this is a time that crude oil stocks do build which can put downward pressure on prices.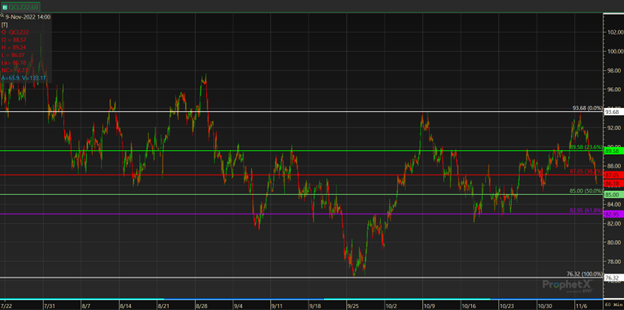 From a technical chart perspective, there were signs that we hit a near term top. When WTI touched $93.50/barrel, it reached resistance made back on October 9th and ricocheted lower in a pattern known as a "double top" in a chart. Once that move was triggered, the chart above can signify where we are headed. A technical study tool known as the "Fibonacci retracement" which technical strategists use, means that a 50% retracement from the low WTI made in late September to the high that we tested and fail to exceed, is in the cards signifying a potential drop to $85/barrel. If that breaks, then we could head towards $82/barrel.
Oil prices fall on U.S. inventory build, China COVID worries (cnbc.com)