Crude Oil prices have stabilized for now, but what is next for the energy patch?
After a questionable sell-off at the end of November and early December, WTI crude prices have begun to stabilize. We are trading at $78.02/barrel today, up $1.93 on the day after going as low as $70.37/barrel earlier this month.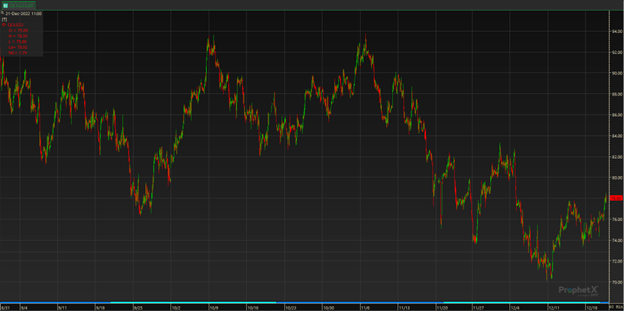 Part of the reason we are trading higher is crude oil inventories have begun to draw. Today's Department of Energy (DOE) inventory report showed that crude oil stocks drew 5.9 million barrels, excluding the Strategic Petroleum Reserve, SPR. The report also showed that refinery utilization dropped 1.3% to 90.9% operable capacity. So, despite crude oil stocks drawing, refineries are not running production as hard as they would like. Additionally, the Biden Administration needs to decide about refilling the SPR. It has already committed to buying back 3 million barrels last week, but it sold 180 million barrels into the marketplace this year. Therefore, at some point it will have to buy back more, and the market is thinking that since it chose to buy back some while WTI crude was in the low $70s, it will do so again if the market retraces. That makes the low to mid $70s/barrel for crude oil a significant support level for prices.
Despite that fundamental backdrop, we still need to remain focused on the macro-economic picture which leads us to believe we are either already or will be in a recession, winter weather outlook, and China's economic recovery from zero-COVID-19 strategy. With a dreary outlook for the economy, a drop in WTI prices is always in the cards if further reports of an economic slowdown tick higher. We will look at Q4 earnings reports from companies in mid to late January for that. Even though we have frigid cold temperatures this weekend and then a warm-up next weekend, we will have to keep our eye on weather in late January and February to see if that impacts the direction bias on prices. Finally, China is going to be the linchpin on market direction once we escape winter. They have loosened some restrictions on their tight COVID-19 policies, but more variants are arising, and people are getting hospitalized. If they keep opening things up, that could lead to much more demand in the spring which would be supportive prices. If they regress and shut things back down, that could put a ceiling on how oil goes. For now, expect WTI to stabilize in the $70/barrel range.
Crude oil price rises as US seeks to restock Strategic Petroleum Reserve (msn.com)