New York Governor Andrew Cuomo announced Monday that he will cancel all in person classes in schools and day cares within nine NYC neighborhoods this week. New York City Mayor Bill de Blasio is also suggesting restrictions on nonessential businesses during this surge in cases, which Cuomo is currently not supporting. "While the principals are back and have prepped schools for safety, the Mayor's agreement undermines parent confidence in schools and the ability of these institutions to do their job."[1] There are around 300 public and private schools that will be forced to shut their doors and commence virtual learning.
The neighborhoods in question are some of the neediest communities in Brooklyn and Queens and have infection rates of 3% or higher for seven consecutive days. These nine zip codes account for 20% of the citywide cases over the past month. Another twelve neighborhoods could be close behind with closures.
The Covid recession, beginning in the first half of 2020, hits the neediest communities the hardest. The Washington Post reported that as the nation saw economic recovery, mothers of school-age children saw a slower path to normalcy.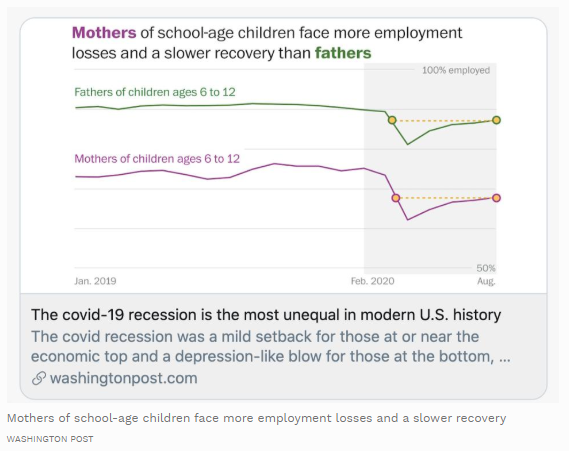 Childcare is often an essential aspect of whether a mother can return to work. If both schools and daycares are shut down, it provides another obstacle for parents to return to the workforce.
De Blasio is also directing restaurants in nine NYC neighborhoods to shut down both indoor and outdoor dining today. Cuomo, after rebuffing de Blasio's plan to shut down nonessential businesses, has introduced a plan to do so. Certain neighborhoods will only allow restaurants to be take out only in red zones, orange zones have outdoor dining only, and yellow zones have restricted indoor dining.
"De Blasio intended these new restrictions to go into effect on Wednesday, but needed Cuomo's approval to move forward. The governor agreed to the schools closure part of de Blasio's plan, but nixed his plan to limit indoor and outdoor dining by ZIP code, before announcing his own plan today."[2]
The goal, by both officials, is to minimize the spread of the virus after NYC was one of the hardest hit areas when the outbreak began. Their plans of attack and clashing plans, however, are causing angst among parents, students, business owners and all community members in between.
[1] https://www.forbes.com/sites/jeanneallen/2020/10/05/as-schools-finally-find-footing-nyc-reverses-course-on-reopening/#5417769e4fec
[2] https://ny.eater.com/2020/10/6/21504676/cuomo-shutdown-brooklyn-deblasio-nyc-restaurants