On May 7th, the Colonial Pipeline was paralyzed with a ransomware attack halting 45% of the East Coast fuel deliveries. With the Colonial Pipeline shut down, consumers began panic buying which had a major impact on the readily available supply of fuel.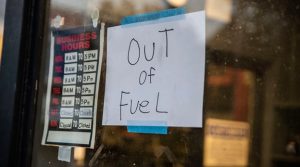 The Federal government and some states have eased fuel regulations to cope with the lack of supply and have approved alternative solutions to transport fuel to where it is desperately needed. At the time of this writing, product movement has been restored, but there is still an expected delay in gasoline, diesel, along with jet fuel for the foreseeable future adding stress to the nation's energy industry.
The cyber-attack that caused the disruption was hacked by a group known as DarkSide which released a statement stating, "Our goal is to make money, and not creating problems for society. From today we introduce moderation and check each company that our partners want to encrypt to avoid social consequences in the future."
With the Colonial Pipeline shut for the past 6 days, fuel shortages are inevitable. According to government officials and energy analysts, there are no fuel supply shortages, but there is a transportation issue. According to GasBuddy, the US gasoline demand jumped 20% this past Monday compared to the previous week. Consumers are lining up to fill or top off their tanks, waiting in long lines across the East Coast. 65% of North Carolina, 43% of Georgia, 44% of Virginia, and 16% of South Carolina stations are reporting that they have no fuel. The demand for gas availability information was so intense, GasBuddy experienced outages on their app and website. To combat the outages, the Federal government had loosened certain environmental restrictions, volatility requirements and working hour regulations. Some state governments such as Georgia, North Carolina, and South Carolina have also eased restrictions to help fix transportation problems.
This cyber-attack brings to light potential shortcomings of our nation's infrastructure. Time will tell if there will be another attack, but this episode highlights the need for investment in critical infrastructure and cyber security.
Gas Stations Report Shortages | Transport Topics (ttnews.com)
Panic Buying And Gas Shortages Sweep The East Coast | OilPrice.com
Tanker Rates Surge After U.S. Fuel Pipeline Outage | OilPrice.com
Panic Buying Sends U.S. Gasoline Prices To Near 7-Year High | OilPrice.com
Some Gas Pumps Run Dry Due to Panic Buying | Transport Topics (ttnews.com)
Biden Waives Some Gasoline Mandates | Transport Topics (ttnews.com)
Panic Drives Gas Shortages After Colonial Pipeline Ransomware Attack : NPR
US states declare emergency over gas shortage fears following cyberattack | News | DW | 12.05.2021
Gasoline demand spikes in several states after pipeline hack – CNN