The Colonial Pipeline has been shut down since Friday, May 7th after a cybersecurity attack. It is the largest fuel pipeline in the United States that runs from Texas to New Jersey and transports roughly forty-five percent of the East Coast's fuel supply. Colonial transports 2.5 million barrels per day of gasoline, diesel, jet fuel and other refined products through 5,500 miles of pipeline. The pipeline connects refineries from the Gulf Coast to more than fifty million people in the South and East.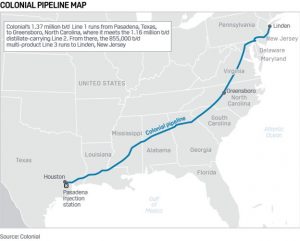 Colonial Pipeline has determined that it was the victim of a ransomware attack. A Russian criminal group known as DarkSide, may be responsible for the attack. They have a sophisticated approach to the business of extortion, according to sources at NBC News. Colonial has hired a third-party cybersecurity firm to investigate the incident and have contacted law enforcement and federal agencies. According to the company's media statement released Sunday evening, they are developing a system restart plan and some of their smaller lines are now operational.
While there is no official timetable for the pipeline to restore full operations, the federal government is working to avoid supply disruptions after Colonial suspended operations. Wells Fargo analyst, Roger Read has outlined possible date ranges and the impact. According to Read, if the shutdown lasts more than 10 days, "Expect significant fuel shortages in the interior Southeast of the United States." As we enter day three of the pipeline being offline, the impact at the pump has not been felt.
https://www.cnbc.com/2021/05/10/largest-us-fuel-pipeline-colonial-still-mostly-shut-impact-and-reopening.html
https://www.cnbc.com/2021/05/08/colonial-pipeline-shuts-pipeline-operations-after-cyberattack.html
https://www.nbcnews.com/politics/national-security/russian-criminal-group-may-be-responsible-colonial-pipeline-ransomware-attack-n1266793
https://www.nbcnews.com/news/us-news/cyberattack-forces-colonial-pipeline-shut-major-fuel-line-n1266737
https://www.colpipe.com/news/press-releases/media-statement-colonial-pipeline-system-disruption
https://www.spglobal.com/platts/en/market-insights/latest-news/oil/050821-colonial-pipeline-confirms-cybersecurity-attack-temporarily-halts-operations