Clean, or lower emissions is certainly the direction all auto manufacturers are headed, as we run deeper into climate and environmental discussions.   Improving emission of a vehicle is by introducing a cleaner, hotter burning, more oxygen rich fuel to increase the efficiency of the combustion process.   Vehicular emission is why we have 10% ethanol in most of the gasoline sold at retail pumps each  of us use on a daily or weekly basis.   This blog will highlight a basic understanding on what ethanol means for our vehicles. 
For starters, another name for Ethanol is Ethyl Alcohol, which is also known as grain alcohol or drinking alcohol.  Most of us have heard rumors of bootleggers using their own product to power their vehicles: guess what, its true!  Many times, the engines could be altered to run more efficiently using grain alcohol due to the higher-octane rating and quicker throttle response times.  As a result, ethanol transitioned over to the racing industry quite well.  A gallon of full ethyl alcohol has an octane rating of 113, but also contains roughly 30% oxygen, which immensely helps reduce emissions.   The higher-octane rating allows the engine to run more efficiently, cooler, and also improves throttle response times due to higher compression ratios in combustion engines.   We have all been there waiting to merge into a crowded highway during rush hour traffic, wishing we had a vehicle that would respond to acceleration as quickly as our foot can hit the gas pedal.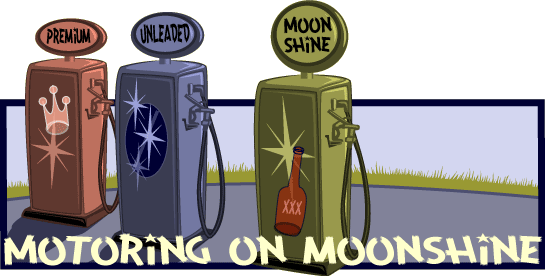 A great benefit of Ethanol is that it is an entirely renewable fuel source.  Most known as a byproduct of corn, can also be produced from sugar cane, or any other biomass available.  Ethanol is however about 33% less efficient when compared to conventional non ethanol blended gasoline.  The tradeoff is that Ethanol content brings down the cost of the fuel, but also increases the torque output from the engine.  Torque values are important to us in a vehicle, because in its most basic explanation, it is what gets the vehicle moving from a stop.   The easier a vehicle can accelerate at low speeds, using less throttle, the better the fuel mileage will be.   This is partially why we really have not seen too much of a drastic change when retail pumps started to introduce 10% ethanol as the new standard for many passenger vehicles.
The main contention brought up with Ethanol fuel is the mileage difference when compared with a regular gasoline fuel.  We must keep in mind that with much of the fuel being consumed through retail pumps, the manufacturers must calibrate the operating systems to operate on the most commonly available product, which is  e10 gasoline.  The sacrifice with a flex fuel vehicle, we do not have enough higher ethanol fuel available regularly to take advantage of the peak ethanol efficiencies.   In due time, that will change, and we will uncover the true tuning and efficiencies of a high ethanol content.
https://www.sciencedirect.com/science/article/abs/pii/S0960148109000585#:~:text=Ethanol%20has%20higher%20evaporation%20heat%2C%20higher%20octane%20number%20and%20the,fuel%2C%20the%20heating%20value%20decreases.
https://www.energy.gov/sites/prod/files/edg/media/Myths_and_Facts.pdf
https://whyfiles.org/253ethanol/