Cargo vans once served a predominantly niche market of tradesmen, mobile construction sites and vocational contractors, but with the recent demand explosion of final-mile delivery vans they are becoming incredibly common and increasingly popular.  E-commerce doesn't appear to be going anywhere soon, and van manufacturers are happy to keep supplying the growing demand of new vehicles.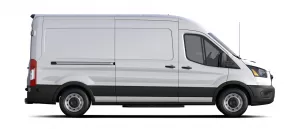 The evolution of cargo vans has led to increased safety and efficiency.  Dave Sowers, head of commercial marketing at Ram, stated that "Safety features continue to lead the way, allowing for a reduction in cost of ownership and downtime."  He noted that features such as forward-collision warning and mitigation, blind spot monitoring and a digital rearview mirror have all led to better safety.  The vans have also become more functional in the vehicle's interior workspace.  The vans have more functional shelving units that can be tailored to either final-mile delivery cargo vans, or the vocational mobile shelving units.  They are also more ergonomic for drivers by replacing the manual parking brake that clogged up interior space with an electronic brake, and added lighting to the interior workspace.
It's no secret that a global shortage of microchips has put stress on the new vehicle market, but manufacturers have gotten creative to keep up with the increasing demand.  Mercedes-Benz says they've been working closely with suppliers on monitoring the chip shortages, but their flexibility between plant operations has allowed to succeed in generating new vehicle supplies.  Drew Walker, Ford's commercial van brand manager said "We have been finding ways to build units without certain parts and install them later.  There is a mix of what we can build and have to be flexible in our production.  We have driver-assist systems and technology built into our vans making them more sophisticated today with advanced technology and microchips."
The increased demand is certainly a welcome sign to the vehicle manufacturers, and it reinforces the strength of the e-commerce final mile delivery industry.  We can expect to see final mile delivery continue to grow within the freight industry, particularly considering the growth in the e-commerce sector during the COVID-19 pandemic.
https://www.ttnews.com/articles/cargo-van-manufacturers-take-advantage-last-mile-delivery-industry-grows