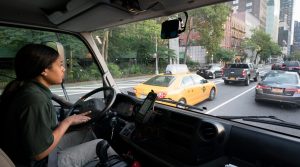 Many fleet owners have worked hard to ensure the safety of their employees and the vehicles they are driving. A way companies are continuing to ensure the safety of their drivers is by installing dash cameras in the cab of their trucks or vehicles.
Cameras are used as a resource to enhance the ability of a driver.  These cameras are triggered to turn on only in the case of an event like hard breaking, distracted driving or a crash.
Fleet owners commitment to safety not only includes the driver's wellbeing, but also things like autonomous emergency braking, lane switches, speed, driver assistance and many more. The camera technology is not a replacement for safe driving techniques, but a way to assist safe driving. Drivers will still need to remain alert and engaged while driving. Data recovered from cameras will help fleet owners coach drivers on how they can make improvements while on the road.
Cameras are a tool in your fleet's overall safety and will enhance the driver's ability to focus. They are a tool to allow the driver to be coached for improvement or to commend the driver on his or her dedication to safety.
https://www.fleetowner.com/perspectives/ideaxchange/article/21169181/cameras-are-just-one-part-of-the-safety-arsenal