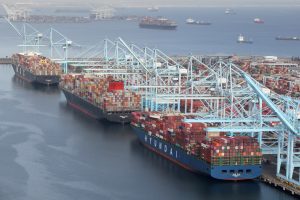 The number of shipping containers awaiting outside the adjacent ports of Los Angeles and Long Beach are closing in on 100 reaching an all-time high. On Nov 16, the total number of shipping containers was 86, since then the number has increased to 96. The estimated wait time for these ships to dock is almost 21 days, which is a week longer than only one month ago and two weeks longer than two months ago.
The ports implemented a new queuing system to help keep traffic flowing and reduce the risk of log jamming. The queue system was implemented on Nov 16 and would require cargo vessels that arrived early to wait 150 miles off the California coast instead of hugging the coastline in large groups. "The revised way of counting ships bound for Los Angeles to Long Beach, divides them into a couple of categories. 40 vessels that are either anchored in designated spots plus those "loitering" within 40 miles of the ports, and another 56 outside that perimeter, many of which have slowed their speed on the voyage from Asia that typically takes at least two weeks." By implementing this system, it reduces the number of backlogged ships at anchorage and the pollution that ships produce when idling.
Even though the estimated wait to dock is at an all-time high, there is relief in sight. American importers typically book January orders in advance to restock inventories before Chinese factories reduce production for the Lunar New Year holiday. The White House is encouraging longer hours for truckers and longshoremen by backing incentives for timely pickups. The effort to reduce the dwell time of containers over the past month has had mixed results. The number of boxes waiting from zero to eight days has decreased, but the number of boxes waiting over nine days or longer has increased.
When it comes to fixing the supply chain, we all know it's not going to happen overnight. The new plans are being implemented have only just begun and will need some time for everyone involved to get adjusted.
New ship 'queue' system aims to cut congestion, pollution at Ports of LA, Long Beach – Press Telegram
https://www.bloomberg.com/news/articles/2021-12-04/u-s-ship-logjam-stretching-far-into-pacific-is-longer-than-ever?srnd=economics-vp
U.S. Ship Logjam Stretching Far Into Pacific Is Longer Than Ever | The Daily Chronicle (chronline.com)