Yes, there is an OPEC meeting next Thursday which is dominating the headlines. But, do you think this market could be overbought? Let's talk about the fact that everyone seems to believe that Saudi Arabia and Russia want to extend current production cuts through March 2018, so don't you think traders are now positioned for that to happen? This could be a classic "buy the rumor, sell the fact" next week.
Let's also talk about the severe recent drop in the dollar index. After Donald Trump was elected, the dollar index rose 6.5% at its peak. However, amidst the latest probe into the Trump Administration's possible collusion with Russia during the election, the dollar index has plunged to six month lows. This dive in the dollar has provided some footing to commodity prices, especially crude oil. Some traders believe we'll be hitting support on the dollar index shortly which could cause it to rise and possibly put selling pressure on commodities.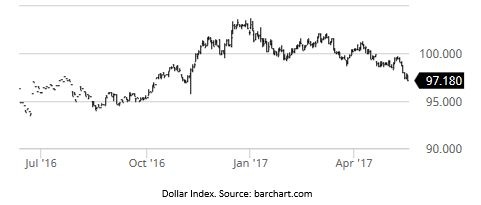 On the physical side of oil, Reuters reported that estimated inventories stored in industrialized nations stood at around 3.025 billion barrels near the end of March, about 300 million barrels above the five year average. Many refiners are saying they are filled with crude oil, with not that much time to refine it into products used for the summer driving season. As of last week, U.S. refiners are running at 93.4% utilization; 2.9% higher than this time last year. Therefore, we have a lot of crude oil in storage and refineries are operating at high levels to turn it into finished products. Unless OPEC cuts production by more than expected, crude oil may have more downside potential.
June WTI currently trades up $1.00 to $50.35/bbl, RBOB is up $0.0353 to $1.6416/gal, and ULSD trades higher by $0.0371 to $1.5824/gal.