Late yesterday afternoon, Colonial Pipeline's gasoline pipeline (Line 1) in Shelby County, Alabama, experienced an explosion and fire when a track hoe hit the line, resulting in the closure of the largest fuel pipeline in the U.S. Reports indicated that five individuals were transported to Birmingham-area hospitals for treatment, and there was one fatality recorded at the scene. In response to the incident Colonial also closed its main distillate line (Line 2).The Colonial pipeline has a capacity to carry 2.6 million barrels of refined product per day (109.2 million gallons). The smaller Plantation Pipeline which follows a similar route to Colonial, has a capacity of 700,000 barrels per day (29.4 million gallons).
Prices for gasoline reacted quickly to this news last evening, racing up by $0.1951/gallon over yesterday's close when the incident was first reported. The market has fallen off of this high, with prices currently trading $0.1309/gallon higher in advance of the market open.
The incident location is several miles from the site of a Sept. 9 spill in Shelby County, which disrupted supply to the Southeast and East Coast for 12 days. Early reports are that the two incidents are not related. This shut down resulted in fuel shortages across the southeast and higher retail prices. The current incident could have similar impacts.
Colonial Pipeline has provided the following link for updates: https://helena.colonialresponse.com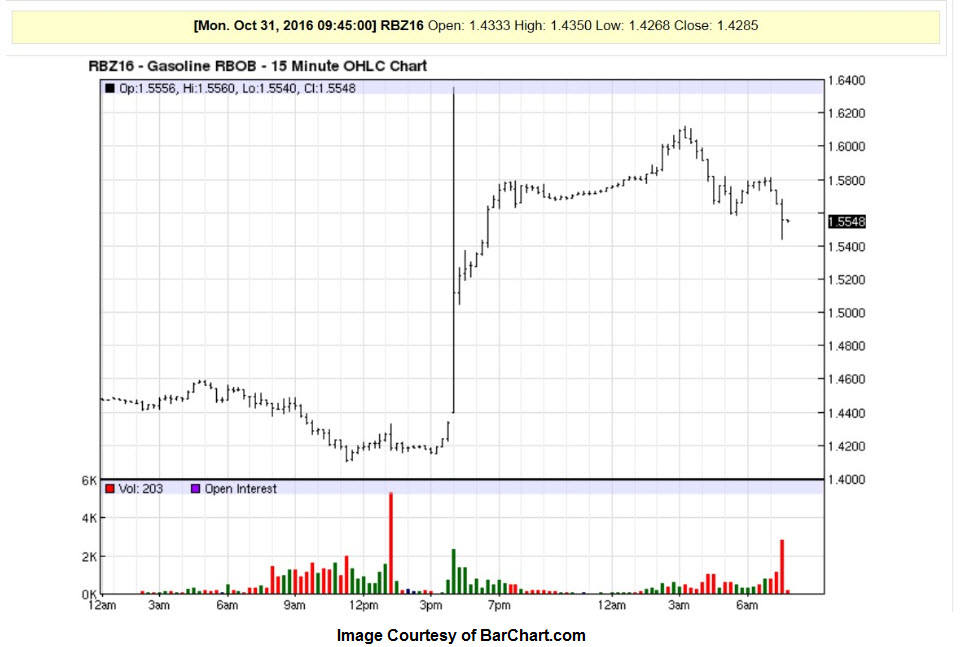 Beyond the impact on supply availability in the Southeast, this incident may impact a much larger portion of the United States. Gulf Coast refiners may see reduced values for gasoline and distillate as their options to move the product to market are greatly reduced. Their choices are to sell the product in local markets, export it, ship it via pipeline north toward the Midwest, or reduce their current processing rates to balance the supply of refined products with the local demand.
In the Mid-Atlantic and Northeast there isn't enough refining capacity to meet the demand in this more heavily populated area. We expect product to be moved via truck east and south from Ohio and western PA, and south from the refining complex in the Mid-Atlantic to meet the demand, resulting in higher prices in these regions as well.
Many suppliers implemented strict allocations last evening in response to the incident while they assess the short-term and long-term impact of this incident. We will continue to provide updates on this incident's impact on the market and supply availability. Your Guttman sales representative will also have access to the most current information available on supply availability, truck availability and pricing impacts resulting from this event. Their contact information is available at: https://www.guttmanenergy.com/About-Us/Sales-Team.