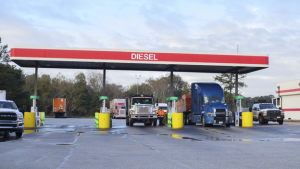 How much do you think a fleet owner would pay to have their equipment to run-in top-notch condition, and have great overall longevity? That could be the decision of which type of diesel they are putting into their tank.
Premium diesel is without a doubt more expensive but can save you more in the long run especially with truck performance, overall efficiency, and equipment longevity. Additives are the features that separates premium from standard-grade diesel. There are five benefits of using premium diesel that will keep your vehicle on the road in top-performing condition.
Helps keep your engine running clean
Premium diesel helps prevent deposits
Keeps unwanted moisture out
Quicker start ups and less pollution
Reduces friction
Premium diesel is basically regular diesel with additives, a higher cetane number, better lubricity and includes detergents that provides an injector-cleaning capability. A contemporary modern long-haul truck is a very hi-tech healthy six-figure asset operating in a cutthroat business where every cent of operating cost really matters. Next time you go for a fill up weigh the benefits of a smoother cleaner ride.
https://www.fleetowner.com/shifting-gears/article/21163702/top-five-perks-of-premium-diesel