According to ACT Research, the average price for a Class 8 truck sold in April 2021 rose to $57,431, an all-time high. The increase in price is especially stark when compared to the pandemic-low of $38,242 a year earlier. What is causing these previously unseen price tags for 16+ ton trucks? A few grams of silicon and precious metals that we know as a semiconductor.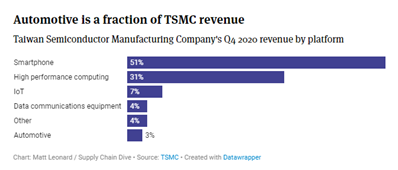 Several different forces have combined to amplify supply-chain issues for the automotive industry. To begin with, there are simply not enough semiconductors being produced. A February freeze in Texas, a March fire in Japan, and Taiwan's persistent drought have added up to drastically decrease the gross number of semiconductors being fabricated. At the same time, an explosion in demand for consumer electronics have left automotive manufacturers without a component that mediates everything from airbags to engine performance in vehicles. Demand for semiconductors is especially high on Class 8 production lines, where 15 to 35 chips are needed per tractor.
With the short supply of new trucks pushing price tags skyward, customers are turning to the "relatively less used" section of the used Class 8 lots to keep ancillary costs grounded. The odometer of the average Class 8 sold in April 2021 read 419,000 compared to 444,000 a year earlier. Similarly, the age of that truck was six years, four months, making it five months younger than its April 2020 counterpart.
According to Garret Bowers, CEO of Bowers Trucking and Logistics Inc. in an interview with Transport Topics, "older used trucks require old parts, and old parts aren't necessarily on the counter these days, or in the manufacturing focus." He went on to add, "Hauling today's freight with yesterday's older trucks is not going to keep you in business tomorrow. We believe that to thrive and stay on the right side of this very inflated freight market bubble, if you can't get into the trucking business and afford a newer used or a brand-new truck, you probably shouldn't be in the trucking business."
ACT Research Vice President, Steve Tam would seem to agree, "If you look at some of these younger trucks that are in this data, they are doing awfully well." With demand continuing to increase as supply dwindles, Tam sees no reversal of this pricing trend in the near future. "It continues to be a very tight market, which is always an environment that carries that potential [for steeply rising prices]."
https://www.ttnews.com/articles/average-price-used-class-8-sets-all-time-record
https://www.wsj.com/articles/global-chip-shortage-set-to-worsen-for-car-makers-11619708393
https://www.transportdive.com/news/semiconductor-chip-shortage-class-8-truck-OEM/597712/
https://www.ccjdigital.com/economic-trends/article/15064848/oems-face-production-challenges-as-truck-orders-surge
https://www.supplychaindive.com/news/semiconductors-tsmc-general-motors-ford-Infineon-mcu/595214/