While temperatures are going to remain above average for another week, we're going to get hit with an "arctic blast" December 8th that could last until Christmas. From an operational perspective, truck fleets' operability is at risk if their fuel is not additized before the cold weather approaches. From a market perspective, with distillate inventories already tight and relatively few heating oil shippers posting prices at petroleum terminals, demand could outweigh supply.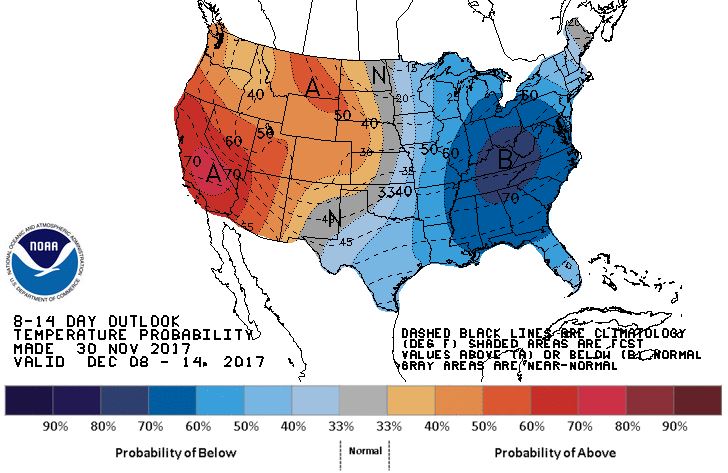 The NOAA 8-14 weather outlook graphic above is one of the most reputable in the business. It shows that the Eastern United States has a very high probability of temperatures below normal over the next two weeks. This is a snapshot of what traders look at, but the devil is in the details here. Below is a breakdown of temperatures we follow in Washington, PA (just Southeast of Pittsburgh). Beginning Friday 12/8/2017, we will see a stretch of daily low temperatures trending in the teens for two weeks.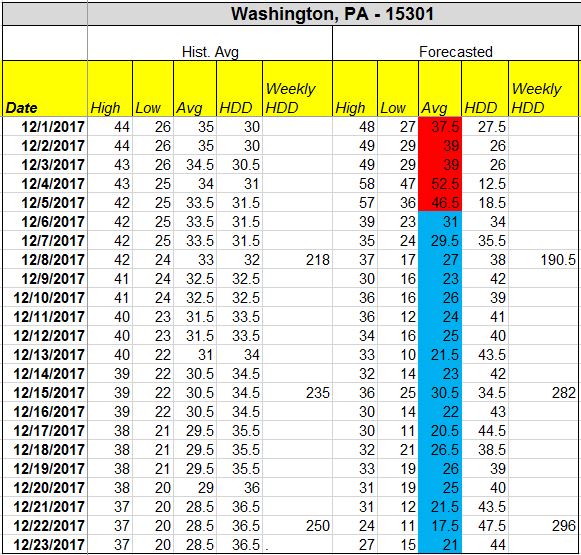 Risks that can occur when the temperature drops; diesel fuel gelling can form if it is not additized. We strongly encourage diesel fuel engines and storage tanks add winter additive to improve functionality and operability. It will be extremely important to have additized fuel in fleet tanks BEFORE the cold weather hits next week to make sure their diesel trucks operate smoothly.
Heating oil will be in high demand from wholesalers, power/utility companies, auxiliary units that operate on heating oil when spot natural gas gets too expensive, etc. The demand could boost the basis cost of providing heating oil and even possibly run racks dry because shipments cannot get to petroleum terminals fast enough.
Contact Guttman Energy to learn more to assure safe operability of your fleet and how to protect yourself from a boost in basis prices.