Like an aging New Waver desperately holding onto an outdated Flock of Seagulls haircut, the European Union is straining to maintain their part of the 2015 Iran Nuclear deal. After President Trump made his announcement that the United States would be pulling out of the deal, European Union member nations decided to remain in the agreement and stated that they would continue doing business with Iran. In practice however, many European companies are winding down and severing their business deals with Iran.
The U.S. sanctions are slated to take effect in early November after the 180 day "wind-down", and even though the European Union is trying to negotiate waiver exemptions, there is a real fear of facing secondary sanctions from France's Total S.A. Total S.A. had a $1 billion deal with China National Petroleum Corporation to develop the South Pars gas field, which is the world's largest located on the border of Iran and Qatar. In the face of new sanctions, Total S.A. is backing out of the agreement and allowing China National Petroleum Corporation to completely take over.
Shipping companies, such as Denmark's A.P. Moller-Maersk will cease shipping Iranian oil. Maersk CEO Soren Skou made a statement in May that "With the sanctions the Americans are to impose, you can't do business in Iran if you also have business in the U.S., and we have that on a large scale." Other businesses with a presence in Iran are following suit and pulling out of Iran, such as General Electric, Honeywell, Boeing, Lukoil, Reliance Industries, and Siemens. These large companies are signaling to the world that continuing to do business with Iran is tantamount to disaster.
The coming difficulty in buying and shipping product from Iran is predicted to cause instability in price. To help offset this potential outcome, the Trump Administration reached out to Saudi Arabia to seek their assistance and in ke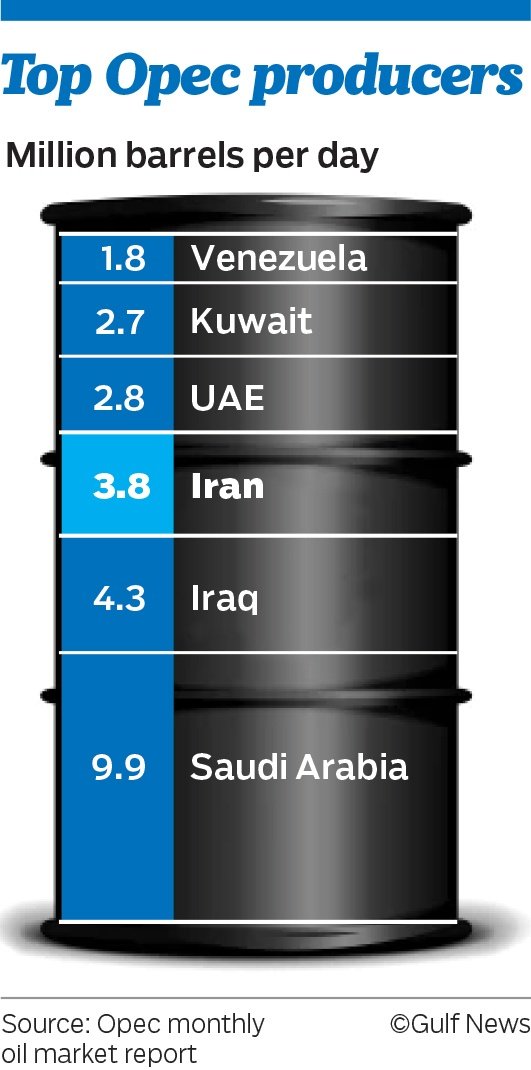 eping the price stable by asking them to increase their oil production by 1 million barrels per day. Naturally, Iran had harsh words in response. Hossein Kazempour Adebili, Iran's
OPEC governor, lashed out, stating that "OPEC will not accept such a humiliation.
How arrogant and ignorant one could be (to) underestimate the history of 60 years' cooperation among competitors." Kazempour also hinted at a sharp increase in price by reminding the press that "The U.S. tried it last time against Iran, but oil prices got to $140 a barrel."
OPEC is set to meet June 22nd at their headquarters in Vienna to discuss their output policy. Iran made a plea to the counsel asking for their support against the U.S. and to schedule a debate on the sanctions. The council did not respond favorably and is likely to reject Iran's request because the meeting agenda had already been finalized in advance.
Source:
https://oilprice.com/Energy/Crude-Oil/Iranian-Oil-Production-Could-Be-About-To-Plunge.html
https://oilprice.com/Energy/Oil-Prices/Iran-Oil-Prices-Could-Jump-To-140-On-US-Sanctions.html
https://www.forbes.com/sites/ellenrwald/2018/06/06/10-companies-leaving-iran-as-trumps-sanctions-close-in/#50bdebc5c90f
https://www.reuters.com/article/us-oil-opec-iran-exclusive/exclusive-iran-slams-us-for-seeking-saudi-oil-output-hike-says-opec-wont-comply-idUSKCN1J415J
http://www.petropars.com/en/projects/southparsgasfield
https://www.reuters.com/article/us-oil-opec-iran-sanctions/opec-likely-to-reject-iran-request-for-discussion-of-u-s-sanctions-idUSKCN1J41Q2
https://media.mehrnews.com/d/2017/06/14/4/2487046.jpg
http://gulfnews.com/polopoly_fs/1.2150723.1514906659!/image/2331117157.jpg