Regular readers of the Fuel Matters blog have probably just about had it with OPEC by now. A quick check shows over sixty OPEC references in this blog during the last two weeks alone. Understandable, certainly, given the recent surge in oil prices that showed just how relevant the cartel remains. But, really, we could use a break. Lots of interesting things going on here in the U.S., so let's dig into that:
Things are looking up for U.S. oil & gas producers:

API reports a positive trend in hiring, with oil-related positions in the five states most dependent on drilling (Alaska, Oklahoma, North Dakota, Wyoming and Texas) increasing by 52% from August through October, as a percentage of total job listings. Given the heavy layoffs seen by the industry over the last few years, this is welcome news.
S. shale oil production was up 100,000 barrels/day last week according to the EIA, as producers have reacted quickly to the increase in prices driven by the cartel-who-shall-not-be-named.
The Wall Street Journal ran a story about Chesapeake Energy experimenting with a "supersize" well that it hopes will pull oil out of the ground at a cost approximately 75% less than a typical well. One of the direct impacts of the oil glut has been that producers have been forced to figure out ways to make money at lower price points, driving innovation.
Double Polar Vortex: a pain for people, but a boon for jobbers:

It sounds like a high-degree-of-difficulty gymnastics move, but the double polar vortex is a two-headed monster that's serving up a nasty dose of winter. Part one of the duo is currently bringing the Northeast U.S. temperatures well below normal, with lows in the single digits. Part two is expected to blast through the Northern Plains by Saturday and then cross the Great Lakes by Sunday. Not surprisingly, heating oil sales are up, helping heating oil jobbers forget a little bit about the fairly mild winter last year.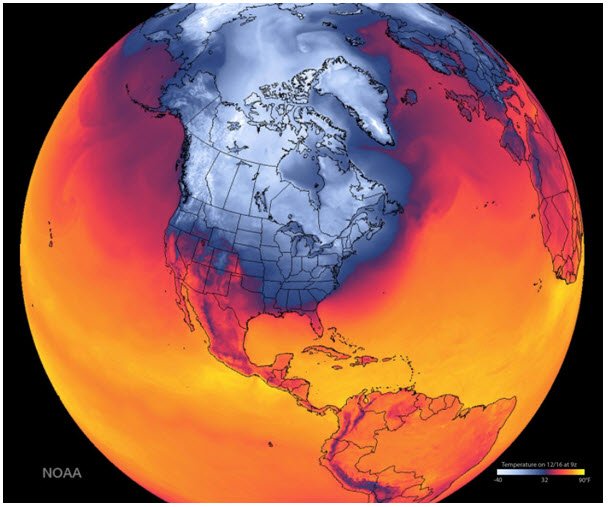 This NOAA image pretty much sums it up.
Back on the global stage for a second, there's now concern about demand, the other side of the coin. Now that the global supply concern has (maybe) been alleviated, there's talk now of a threat to oil demand, stemming from rising interest rates, a strong dollar and slowing demand from Asia. WSJ reports that the International Energy Agency foresees global oil demand will rise by 1.3 million barrels a day in 2017, down from 1.4 million in 2016 and 1.9 million in 2017. If it's not one thing, it's the other…2017 is shaping up to be quite an interesting year.
As of post time (12:40 p.m. ET), WTI crude is up 73 cents, RBOB is up 2 cents and heating oil is up a bit over 3 cents.