Lordstown Motors Corporation warned Tuesday that is it close to running out of cash and may be forced to shut down operations before the end of the year.  The announcement sent the electric truck maker's shares down 20% in midday trading on Wednesday.  The Lordstown facility was once home to a General Motors plant, which GM closed in 2019.
At the end of last year, Lordstown stated it had received 50,000 non-binding reservations from commercial fleets for their Endurance Truck.  The company's plan was to commence commercial production to have around 2,200 trucks ready to ship to customers by the end of 2021.  However, Lordstown Motors recently released its quarterly report in May showing a loss of $125 million between January to March of this year, causing doubt as to whether they have enough capital to meet the beginning of their production schedule which is in September.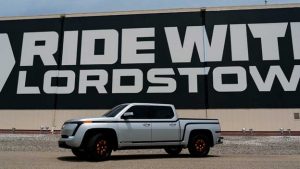 While Lordstown Motors declined to comment beyond their quarterly filing, their ability to stay in business, "is dependent on its ability to complete the development of its electric vehicles, obtain regulatory approval, begin commercial scale production and launch the same of such vehicles."  In addition to its attempt to raise capital, Lordstown Motors faces stiff competition from the likes of Tesla and Ford while also having to face questions about their prototype model catching fire.  It was also revealed Tuesday that the Securities and Exchange Commission (SEC) has filed two subpoenas which questions the number of pre-orders they reported to their investors.
This situation will be interesting to track as it has gone from bad to worse for the once promising electric vehicle startup.
https://oilprice.com/Latest-Energy-News/World-News/This-EV-Startup-May-Be-About-To-Collapse.html
https://www.wsj.com/articles/lordstown-motors-amends-annual-filing-with-going-concern-notice-11623181411
https://www.cnn.com/2021/06/08/business/lordstown-motors-warns-investors/index.html
https://www.reuters.com/business/autos-transportation/lordstown-motors-going-concern-warning-spooks-investors-2021-06-09/
https://investor.lordstownmotors.com/news-releases/news-release-details/lordstown-motors-reports-first-quarter-2021-financial-results
https://businessjournaldaily.com/lordstown-motors-expresses-doubt-as-a-going-concern-as-sec-issues-subpoenas/