GM is now the latest in a long line of auto makers announcing production stoppages due to chip shortages.  The shortage has caused issues in a variety of industries and has had such a negative impact that President Biden has issued executive orders to review the supply chain in hopes to free up supplies. According to the Wall Street Journal, "The executive order mandates a 100-day review of supply chains for four areas: semiconductors, used in products from cars to phones; large-capacity batteries used in electric vehicles; pharmaceuticals and rare-earth elements that are key to technology and defense. Mr. Biden is also calling for a separate, one-year review of supply chains covering six broader sectors, from technology to food production. "The American people should never face shortages in the goods and services they rely on, whether that's their car, their prescription medicines or the food at the local grocery store," Mr. Biden said, at one point holding up a semiconductor. "We need to stop playing catch-up.""  Although this executive order will not fix the problem, it is an indication of the urgent need for these chips.
Unfortunately, the pandemic has not been the only factor causing supply chain disruptions. The issue has been compounded by the storm in Texas, the Ever Given ship stuck in the Suez Canal, as well as port backups across the United States. Automakers have been feeling the affects of this chip shortage and have reduced production or halted production entirely. Some of the companies who have publicly announced production issues are Ford Motor Co., Toyota Motor Corp., Volkswagen AG, Honda Motor Co., and Stellantis NV. These cuts could not come at a worse time as sales have rebounded in recent months. According to the Wall Street Journal, "The pace of U.S. vehicle sales in March leapt to its second-highest level ever for that month, the National Automobile Dealers Association said Thursday…The number of vehicles on dealership lots or en route to stores fell 10% to about 2.4 million by the end of March compared with a month earlier, according to research firm Wards Intelligence." As demand rises and selection diminishes it will be interesting to see if consumer behavior changes.
These chips are used in everything from automobiles to laptops, to video game systems. As the ecosystem of consumerism changes due to the pandemic the demand for these chips his risen sharply but production has been halted due to restrictions in the countries that produce them. This basic supply and demand problem will be felt in almost every industry. Government agencies are now stepping in to reduce any impact felt by consumers, but will it be enough? Only time will tell, and time is running out.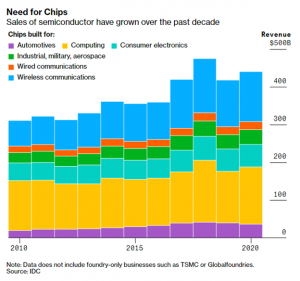 GM to Halt Production at Several North American Plants Due to Chip Shortage – WSJ
Biden Orders Broad Supply-Chain Review Amid Chip Shortages – WSJ
Why Is There a Chip Shortage? Covid-19, Surging Demand Cause Semiconductor Shortfall (bloomberg.com)