Your fleet can't get anywhere without fuel. But keeping your operation on the road isn't as simple as filling up your vehicles when they run out of gas. To ensure your vehicles run smoothly for years to come, you'll need to keep an eye on your fuel system and its various equipment. Read on for a few easy best practices to maintain your fuel system equipment for optimum performance when your fleet needs it most.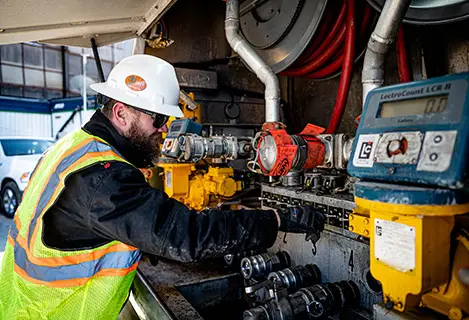 1. Perform Regular Fuel Tank Maintenance
It might seem like common sense, but it's imperative to perform regular maintenance on your fuel tanks. Not only will this practice save you money in the long run, but it will also help your drivers feel safer and more confident on the road.
Preventative maintenance can range from cleaning your fuel tanks and pipes to monitoring for leaks. Train your drivers to properly inspect their own vehicles and schedule regular maintenance with your in-house team.
2. Watch Out for Water Contamination
Your fuel filters should do most of the work in keeping water out of your fuel supply. However, you'll still want to perform regular manual checks to make sure no water is coming in contact with your fuel. Water in your diesel or biodiesel supply can result in microbial growth, which shortens the lifespan of your filter. It can also damage essential parts of your vehicles, including engines and fuel injectors.
3. Find the Right Automatic Tank Gauge
Many fleets can benefit from automatic tank gauges (ATGs). These devices help detect leaks in fuel tanks and can provide additional information such as the fuel level, temperature, water level, and more. You can take things a step further and invest in an ATG that can monitor piping or communicate remotely.
Test for leaks at least once per month. You can perform a periodic test, which is often done overnight, or a continuous test, which can be done during the regular workday. Teach your team how to respond to alerts and read ATG test reports to keep your whole team on the same page.
4. Stay Current on the Industry
The world of fuel management is always changing, from new equipment developments to changes in regulations and legislation. To keep your fleet running as efficiently as possible, it's important to stay on top of the changes. You'll stay ahead of the competition and can make sure your customers get the same reliable services they expect from you and your fleet.
Working with Guttman Energy
Guttman Energy has decades of experience helping fleets throughout the Northeast to ensure the best fuel quality and the most efficient operations possible. We offer several comprehensive fuel operability programs, including on-site tank sampling and testing, fuel pollutant remediation, and more.
Running a fleet is a big job, but you don't have to do it alone. The team at Guttman Energy can help you create the perfect fuel delivery system for your company, implement a fuel card program with your drivers, or offer insights to help improve your overall fuel usage. Contact a Guttman Energy representative today to learn more about all of our products and services.