Let's talk about the weather so far this year (or lack thereof). For the first 12 days of 2020 in our hometown of Pittsburgh, Pennsylvania, we had the 11th warmest start on record. Most of Pennsylvania saw temperatures last Saturday averaging 20 – 30 degrees higher than normal. This is not welcomed news to the energy industry, which obviously loves to sell fuel in the wintertime to keep us warm. Despite the warm start, it looks like cooler-than-average temperatures are on the way over the next two weeks, including the possibility of the first significant snowstorm of the year during the weekend.
Pictured above is the National Oceanic Atmospheric Administration (NOAA) 8-14 day temperature outlook. We finally have temperatures in the mid-Atlantic that will be dropping into the teens next week to help try and make this winter feel somewhat normal. In addition to cooler weather, on Saturday Accuweather says, "snow is forecast to transition to ice and rain from northern Virginia to southeastern New York at the storm's peak, and up to a few inches of wintry mix is expected over areas farther north across the upper mid-Atlantic region."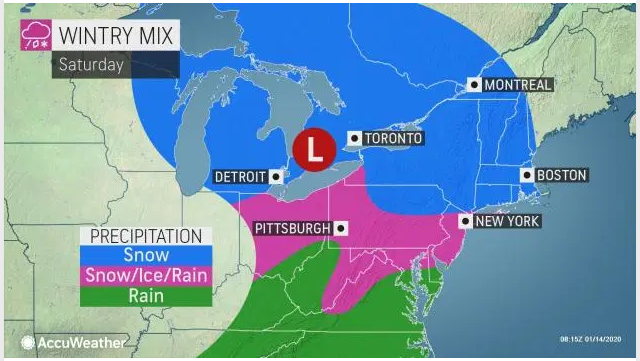 We recommend to our customers to Plan your fuel supply accordingly and get their deliveries in prior to the storm, with the first call for a wintry mix of the season, it increases the chances of consumers rushing to the gasoline pumps and for the state to prohibit tractor trailers on major highways.