Did you know that crude oil is now trading lower than when the Russian/Ukraine war began? Do you feel like it would make sense to lock in fixed a rate at a lower cost? What role do other global markets have on the cost of fuel? How has the market effected your budget?
Crude oil prices are trading more than 40% lower than after the outbreak of the Russia/Ukraine war.
China's new Zero COVID-19 policies have drastically cut the demand on crude recently leading to more supply in the market. This causes a short-term decrease to the global demand in fuel, ultimately helping to lower cost in the short term.
Winter is finally gearing up in Europe and will continue to increase the demand for Heating Oil, causing the supply to decrease again, while demand is still rising. With crude and diesel trading 40% lower than when the war began, now would be a great time to lock in a fixed price to help with budgeting for 2023.
What is a fixed fuel pricing contract and what advantages does that have for your company? Typically, a fixed price contract would last 12 months, and you would lock in at a fixed rate, meaning regardless of the ups and downs in the market your fuel cost stays fixed. For example, if you locked in at $3.18/gal (excluding taxes and freight) your base price for fuel would remain fixed at $3.18/gal. Much like what we have seen in the market depicted below, this contract helps to avoid the major spikes in the market, for example if you look at the graph below back at the end of April beginning of May when prices were at their highest at roughly $5.25/gal, you would have saved roughly $2.17/gal on diesel.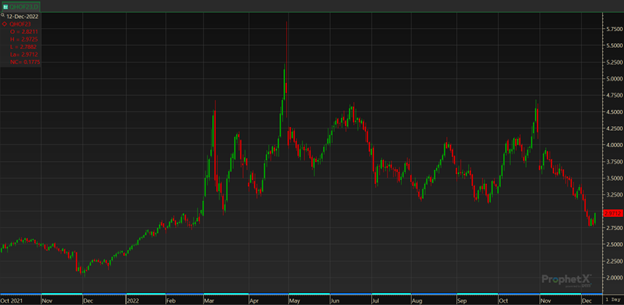 If you would be interested in taking advantage of this great fixed fuel pricing opportunity while it lasts and makes the most sense please reach out at cspataro@guttmanenergy.com, call my direct line 724.268.3228, or reach out to your Guttman Representative.
Click here to learn more about our pricing solutions we offer.