After five months of escalating tensions between the U.S. and China, oil is poised for its biggest weekly loss as macro fundamentals of the said trade wars and increases in oil production from Russia, Saudi Arabia and Libya.
Oil fell below $70 a barrel as Saudi Arabia was said to offer extra crude supplies to some of its customers with plans to boost output, while the U.S. considers tapping into its emergency 660-million- barrel Strategic Petroleum Reserve stockpiles to rein in prices and balance the potential inventory shortages.
Futures in New York fell 4.8 percent after the U.S. threatened tariffs on nearly half of all American imports from China. Bearish signals point towards oil prices on the supply side that includes Libya restarting a key oil field that had been shut since February. However, bullish signals such as the International Energy Agency's warning of over stretched spare capacity point to the supply side as well.
OPEC's Gulf members may need to pump as much crude oil as they can over swelling output losses, the IEA said. Prices have been retreating after last month's record high in almost three-years. Investors are watching for signs that members of the OPEC and its partners are moving to fill any potential in supply that could have been caused by renewed U.S. sanctions on Iran.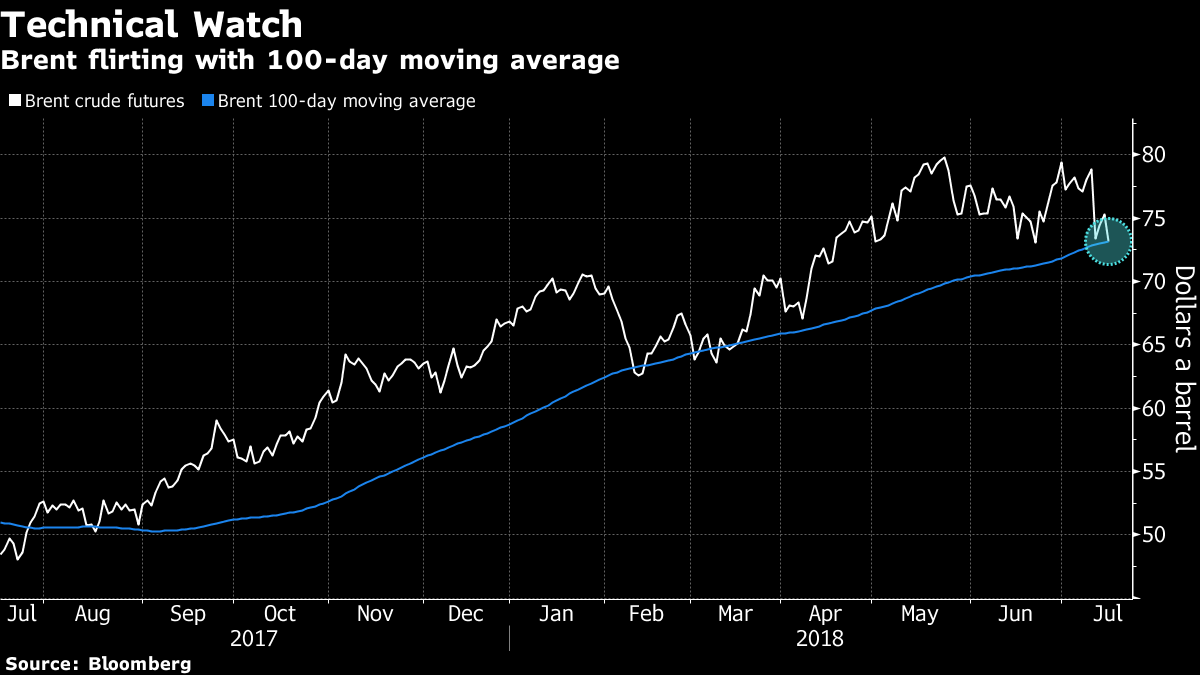 Production could increase by more than 1 million barrels per day from a deal that was made last month between OPEC and its partners. Russia's Energy Minister Alexander Novak said. Still, the group's Gulf members may need to pump almost as much oil as they can to cover swelling output losses, according to the International Energy Agency.
"Going forward, we may see OPEC members with the ability to ramp up output seek to grab more market share, whereas other nations such as Iran and Venezuela trying to stick to the agreement," said Ahn Yea Ha, a commodities analyst at Kiwoom Securities Co. "It's unclear whether the U.S. will actually use the emergency inventories, but we can at least tell that they feel a lot of pressure from crude trading above $70 a barrel."
West Texas Intermediate crude for August delivery fell as much as 59 cents to $70.42 a barrel, and traded at $70.66 on the New York Mercantile Exchange at 12:51 p.m. in Seoul. Total volume traded was about 42 percent below the 100-day average. Prices dropped $2.79 to $71.01 last week.
Brent for September settlement lost 41 cents to $74.92 a barrel on the London-based ICE Futures Europe Exchange. Prices fell 2.3 percent last week. The global benchmark crude traded at a $5.39 premium to WTI for September.
Futures for September delivery gained 0.9 percent to 495.5 yuan a barrel on the Shanghai International Energy Exchange, after dropping 0.3 percent on Friday.
Oil Falls as Saudis are said to offer extra crude to some buyers
https://www.energyvoice.com/oilandgas/176745/oil-rattled-by-trade-war-sets-price-on-course-for-weekly-slump/
https://energynow.ca/2018/07/oil-falls-as-saudis-offer-more-supply-u-s-weighs-spr-release/
https://www.bloomberg.com/news/articles/2018-07-16/oil-holds-below-71-on-prospect-of-u-s-and-opec-boosting-output