Russian President Vladimir Putin signed a decree on Tuesday banning the supply of crude oil and oil products to those who abide by the western cap of $60 / bbl. The decree, which includes a clause allowing Putin to overrule in certain circumstances, was a combative measure in the face of the West's oil price caps aimed at limiting Russia's export revenue which currently helps fund their military efforts in Ukraine. The decree is set to be in effect from 2/1/2023 – 7/1/2023.
Some analysts believe the oil price cap imposed will have minimal effect on Russia's export income as large buyers such as China and India have and continued to take Russian product at similar price levels. Additionally, Japan has stepped in to import their first shipment of Russian crude since May of 2023. While Japan had joined other western countries in sanctioning Russia, they have stated that they will not impose any oil price caps on products exported from Russia's Sakhalin-2 Facility due to its critical role in Japan's energy security. Despite the willing buyers, Russia's Finance Minister Anton Siluanov has stated that it could widen the budget deficit greater than the planned 2% of 2023 GDP.
There has been speculation surrounding the price level set by the G7 as well. Although many investments in Russia have been abandoned, Greek shipping operators have ramped up volume of Russian cargos. Since the invasion of Ukraine, it appears that Greek shippers have increased their volume of product leaving Russia from 34% to 54% of total export volume. A country like Greece would clearly benefit from pushing for a higher price cap to allow Russia to keep producing and subsequently benefitting from transporting the production. Despite Putin's threats that he will not play ball, with limited storage and an inability to make up for the volume of ships owned by the West, one would imagine it would be prudent to overrule the decree in many instances to keep product flowing and export revenues steady.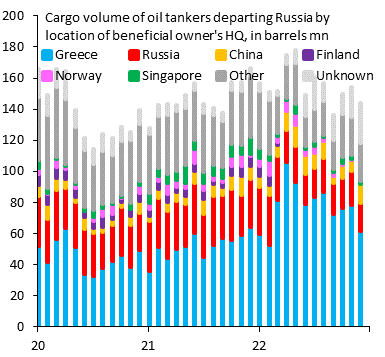 Putin bans Russian oil exports to countries that implement price cap | Reuters
Proposed G7 oil price cap to have little immediate impact on Russian revenue | Reuters
Japan Set to Import First Crude Shipment From Russia Since May – Bloomberg